Your Co-op add the Fairbuds XL to the growing list of ethical electronics
Published date: May 2023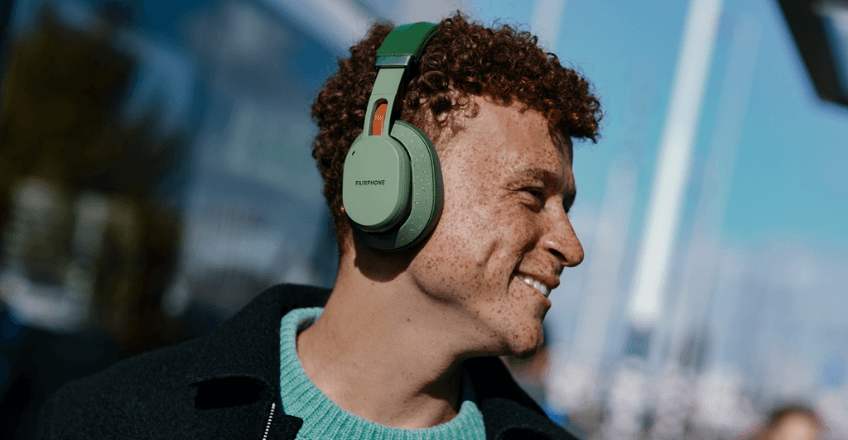 Your Co-op are now proudly offering the Fairbuds XL from Fairphone, the world's most sustainable headphones with a 100% modular design. The first of their kind, the Fairbuds are climate conscious by design as Fairphone have prioritised minimising carbon emissions where possible, as well as contributing to climate projects that further reduce emissions. Though inside the Fairbuds are ethical materials that have been responsibly sourced.
100% Fairtrade Gold
100% recycled aluminium
100% recycled tin
80% recycled plastic
Modular design meets superior sound
Rated 5/5 by
The Guardian
, the modularity of the Fairbuds XL makes it a much longer-lasting device. There are 9 parts that can be easily swapped if necessary, just by using a screwdriver at home. There is no compromise on quality or durability, as they are dust and water-spray proof. Moreover, they use the softest vegan leather for all-day comfort and have a 30-hour battery life.
The Fairbuds XL offers its very own IOS and Android app that has been made in partnership with
Sonarworks
, a team of Grammy award-winning sound engineers tasked with creating the best signature EQ pre-sets possible. Resulting in users being able to get more out of their music with it all at their fingertips.
The sound performance blends the clarity from a dynamic 40mm driver and unrivalled green technology, resulting in a deep bass, warm mids and clear highs for even longer. Though these headphones are smart too, with control of the world around you with noise cancellation or an ambient setting so you can always hear and be heard. Fairphone also provides a 2-year warranty and a commitment to long-term software support, so your Fairbuds are truly in it for the long haul to
end electronic waste
.
A new step into a sustainable world
The Fairbuds XL don't just simply offer an ethical advantage over other headphones in the market, they also open your eyes to a world of sustainable living. By using the Fairbuds XL you are contributing to a fairer and more ethical world, with a fair and open workforce and responsibly sourced materials that collectively create a low climate-impact device. It's this better way of living and consuming that will allow us to all help mitigate climate change but also maintain the the things that bring us joy in our everyday lives.
So why stop there and explore more of Your Co-op and discover how we reduce your carbon footprint each month with ease and make a climate-positive on the world.