Midcounties Co-operative celebrate 10 years in partnership with Fairphone as the 5th generation mobile is released
Published date: October 2023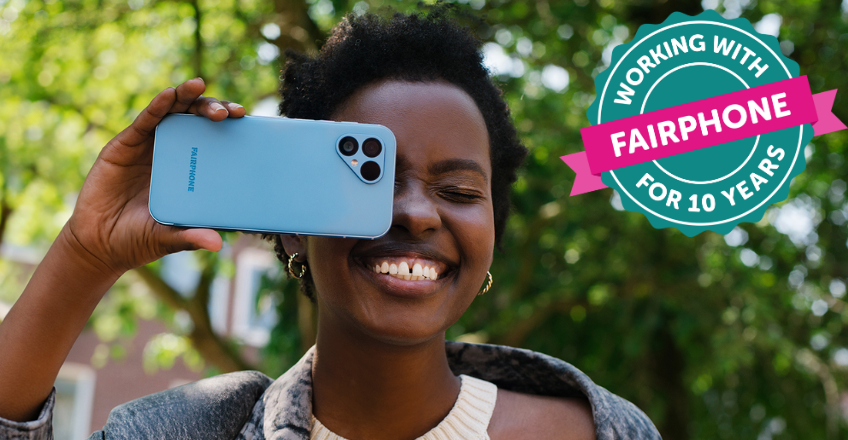 Midcounties Co-op is celebrating 10 years of successful partnership with Fairphone, the sustainable and ethical smartphone manufacturer.
Since the launch of the very first generation Fairphone in 2013, we have shared the firm belief in providing sustainable solutions for customers without compromising quality and performance. In the first 10 years of Fairphone, they have produced smartphones which prove to the technology industry that high-performing electronics can have a limited environmental footprint and a positive social impact.
The success of our long-standing partnership has provided customers with Fairphone's from the only Co-operative telecoms provider in the UK for 10 years. In this time, we have supplied a growing audience of conscious consumers with world's most sustainable smartphones that last-longer than any others.
The positive impact of Fairphone cannot be understated, for climate change alone, 999 tonnes of CO2 were saved in 2022 – the equivalent of burning a toxic total of 500 tonnes of coal.
Fairphone is for the benefit of people too, as the materials in every device matter and impact the lives of those mining and manufacturing. Inside the Fairphone 5 there are responsibly sourced, Fairtrade and recycled materials making up 70% of the device, which are mined safely and child-free. Not only this, but workers are paid a fair living wage and bonuses whilst working in a highly certified health and safety factory with manufacturing partners to guarantee fair treatment for all.
The Commercial Director of Fairphone, Corne Le Clercq said: "We are happy to have collaborated with the Midcounties Co-operative for 10 years. Over that time, so much has changed as we've grown and matured as a company. We've gone from being a social enterprise with limited experience in the electronics industry to scaling up and showing the industry that things can be done more sustainably.
"As we continue to grow and mature, we look forward to our continued partnership with Midcounties in the coming years."
Jacob Isherwood, chief information officer at Midcounties, said: "Fairphone's mission has always been to offer a more sustainable and ethical alternative when it comes to smartphones, and helping businesses to reduce their footprint. Whereas most smartphones require regular repairing and replacing, the Fairphone is built to last, reducing the cost of having a smartphone for businesses and, for over a decade now, our members."