Midcounties Co-operative is Top for Sustainability and Communities
Published date: February 2021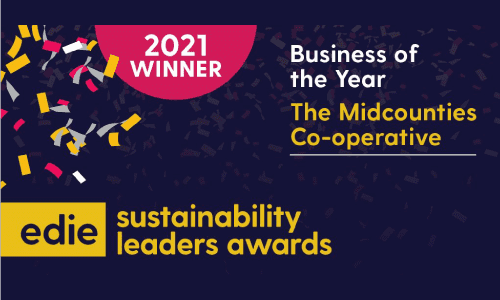 The Midcounties Co-operative has been named Business of the Year in the edie 2021 Sustainability Leaders Awards in recognition of our work to create a sustainable future and support our local communities.
We won the top award at the national event, which celebrates the individuals and organisations that are taking their environmental and social performance to new heights in an effort to achieve a sustainable future, despite the challenges of the coronavirus pandemic.
Not only that, we also took home the Social Sustainability & Community Development award for the support we have given to our local communities and charities through such a challenging time.
In a record-breaking year of entries, with 189 finalists shortlisted across 25 categories, Midcounties Co-operative was the only organisation to take home two awards at the virtual ceremony.
The panel of judges was impressed by the Society's work in our communities, which has involved linking up with local volunteers to make more than 100,000 free food deliveries to people who are self-isolating during lockdown, and our members and customers donated more than £50,000 for 67 food banks.
We also provided over £40,000 of childcare support to NHS key workers, donated smartphones worth £5,000 to help vulnerable people access support, and launched a £75,000 Community Restart Fund where charities and community groups could apply for emergency financial support.
In addition, we were recognised for our support for community energy through Co-op Energy and the Co-op Community Power Tariff, the only tariff to provide 100% renewable power, sourced directly from more than 90 community energy projects around the UK.
The Society has also cut its own energy use by 11% over the last five years and has saved 8 million plastic bags from ending up in landfill every year by rolling out compostable bags across our food stores.
We also work with the International Co-operative Alliance – the body representing co-ops worldwide – as part of the joined-up global effort to tackle climate change.
Phil Ponsonby, chief executive of Midcounties Cooperative, said: "We're hugely proud of this achievement and we couldn't have done it without the support of all our members, customers and colleagues.
"We have launched the first ever energy tariff that uses entirely community sourced power from local wind and solar projects, helping to reduce the UK's use of fossil fuels while also supporting local communities.
"As a Society, were playing a leading role internationally and locally to make sure we have a positive environmental and societal impact.
"We have more than 700,000 members, who all have a direct say in the decisions we make, including our sustainability strategy and how we support local communities.
"Our members also earn a share of our profits every time they shop with us and we're encouraging even more people to join up and help write the next chapter of our story."
To become a member of The Midcounties Co-operative click here.
ENDS
Created on behalf of The Midcounties Co-operative by Citypress.
For more information please contact:
Jo Tarkowski
Senior Account Director
Joanne.tarkowski@citypress.co.uk
07885 978 723
Rory Fletcher
Director
rory.fletcher@citypress.co.uk
07976 351 552