What are VoIP phones and why do I need one?
Published date: August 2023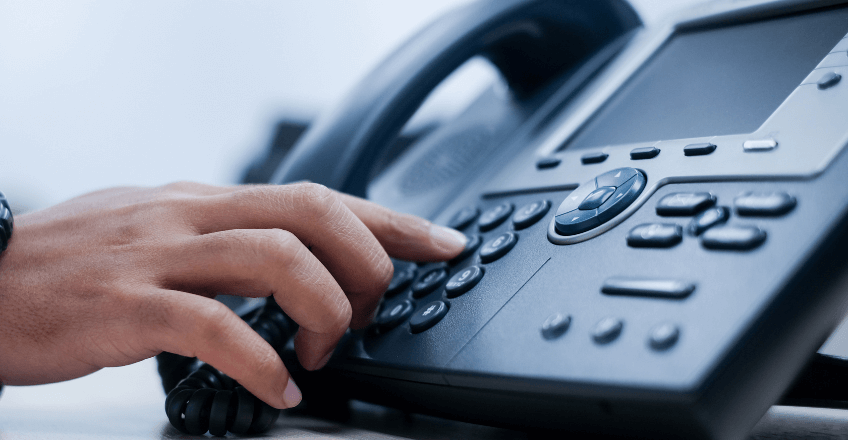 By now, you may have heard of VoIP Phones but aren't sure why they're becoming so widely used in businesses and homes and if you may need one.
Here we will explain:
What is VoIP?
VoIP stands for Voice over Internet Protocol, a phone technology that facilitates voice-based calls using an internet connection instead of traditional telephone lines.
To call someone using this technology, you'll need an SIP-compatible phone or a VoIP calling app that has an assigned IP address so calls can be made from your network. They are capable of producing high-definition audio for calls, unlike traditional phone lines.
People use this technology because they know that the traditional phone lines will end in 2025 and have switched, they may already be only connected by fibre optic cables, or know the benefits of VoIP already.
How does VoIP work?
When using a Voice over IP phone, the sounds and voices are converted into a digital signal that's compressed and sent via the internet. Once the signal has reached the receiver, the digital data is uncompressed, and the sound is fed through the handset or speakerphone. To use this technology both ends of the call must be set up by a VoIP service provider.
There's no need for a telephone company, as Voice over Internet Protocol entirely bypasses any provider. As long as you have an internet connection, you can use VoIP and experience the upgrade from an analogue phone.
Your business or home no longer needs expensive equipment to use a reliable phone system. Today, VoIP phones are affordable and designed with open standards, like Session Initiation Protocol (SIP). This ensures they can communicate with a variety of products using this technology simply and without any end-user effort.
Why and when will I need a VoIP phone?
For your business or home, the traditional landline infrastructure will cease to provide a service in December 2025 when it is officially retired in the UK. This action will end any phone systems connected to this infrastructure and will be incompatible with new technology that works via full-fibre broadband.
To maintain a set of home phones or phones for your business/office, you will also need to ensure your broadband is upgraded to full fibre to the premises or SOGEA (Single Order Generic Ethernet Access). SOGEA is a broadband technology that only carries data across its network and is typically cheaper than FTTC, though both are compatible with VoIP products.
However, FTTC will also be shut off in 2025, as it does contain a copper line from the green box to the premises. This is why FTTP and SoGEA are the only advisable lines for businesses and homes.
Switching to new technology is not only necessary but beneficial too. Typically, VoIP phones are a cost-effective system to keep and maintain instead of landline phones, as well as using greater levels of encryption and security with HD audio. A future-proof upgrade to keep businesses and homes connected.
Hosted Voice for homes or businesses
Your Co-op Business Solutions can tailor and install VoIP phones to take your business or home office to the next level. Explore our flexible options from a single dedicated line for home workers to a comprehensive enterprise-grade Hosted PBX service on the newest generation phones.
We are dedicated to being there for all our business customers and with an experienced account management team that individually tailors our services to your needs.
Provide your business with improved functionality including call groups, call recording and advanced routing options, plus a web portal to manage your service in real time.
Easy-to-switch, use and cut costs for your business with VoIP here.