Fairphone Pay Monthly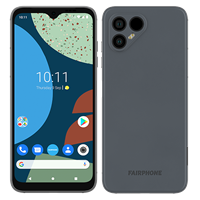 Climate Positive through Ecologi
24 month contract
6GB RAM/128GB Storage
5G & Wi-Fi Calling
5 year warranty
From £30 a month with £24 up front
(excl vat £25, with £20 up front)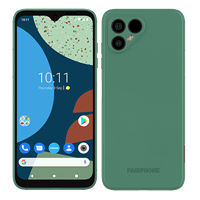 Climate Positive through Ecologi
24 month contract
8GB RAM/256GB Storage
5G & Wi-Fi Calling
5 year warranty
From £32 a month with £24 up front
(excl vat £26.67, with £20 up front)
Unleash the Fairphone 4 with unlimited capabilities
The Fairphone 4 is a powerful Android device that is built to last like no other and is available on a monthly contract. No matter which bundle you go for, you will always be connected with unlimited calls and texts. It is the most sustainable phone in the world that cuts your carbon footprint with added help from Ecologi, plus a 5-year warranty and software support.
By choosing Fairphone, you are consuming ethically and taking a simple yet significant step towards a future that is not sacrificing performance for sustainability and handset longevity. The sustainability credentials of the handset address 9 of the 15 United Nations Sustainability Goals, so by choosing the Fairphone 4 you are actively supporting a fairer and better world for all.
Not only this, but you are also supporting a movement that is attempting to make a positive impact on the mobile phone industry, which currently produces masses of e-waste each year and uses unsustainable practices in manufacturing. To help reduce e-waste, Fairphone has made the handset highly repairable and made each handset e-waste neutral, by recycling as many phones as they produce.
The Fairphone 4 has a perfect iFixit score of 10/10 for the quality of its repairability, proving the ease of changing parts, which helps support the longevity the handset offers to users. This results in a further significant carbon emission saving, by not switching to a new handset when a part needs replacing.
A handset could not be more future-ready for a user by combining performance and industry-leading sustainability. It can even be doubled up with two mobile numbers with dual-SIM functionality, so you can have a Fairphone 4 as your personal and work mobile, all in one, thanks to a physical SIM and an e-SIM being compatible.