The 8 Advantages of VoIP for Businesses
Published date: August 2023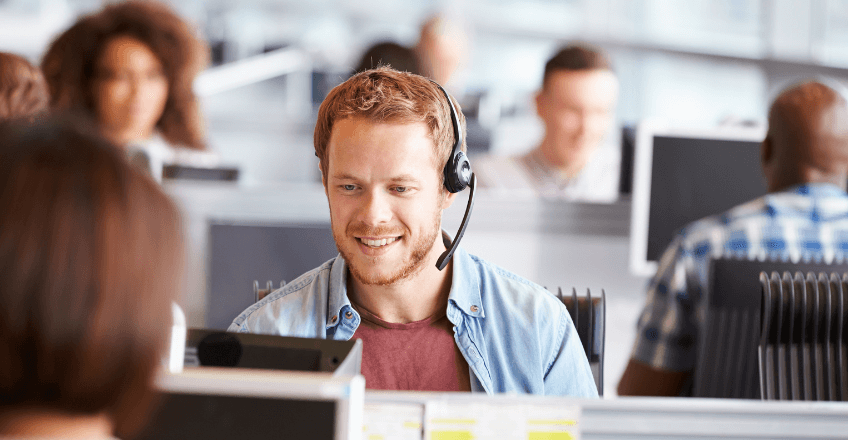 In short, VoIP allows users to maintain office phones despite the traditional phone network ending in 2025, but with many great benefits for businesses. VoIP technology uses the internet provided by FTTP broadband to connect calls; a service that is replacing traditional legacy phones connected via copper-wired landlines.
8 Advantages of VoIP
1. Lower costs
A phone call using a traditional landline requires two callers at each end to communicate. However, as only a certain number of lines exist, using this resource for calls (particularly long-distance calls) makes the traditional landline service expensive.
VoIP provides a lower-cost alternative by using your Fibre Broadband service to communicate via the internet. In-fact, our VoIP provides free internal calls for your business. This method of relaying data between callers makes VoIP a typically cheaper product for both short and long-distance calls.
Find out how much your business could save with VoIP by contacting our
experts here
.
2. Range of features
VoIP from Wildix possesses a variety of features to boost productivity and collaboration with colleagues whilst providing improved customer service and experience.
Key features of the desk phone designed for employees include:
Mobile apps
Hunt groups
Call recording
Integrations into your website
Group conference calls
Opus compatibility
5G/Wi-Fi ready
USB-C Headset ready
Bluetooth compatible
Colleague presence status monitoring
Non geographical features
V-Call integration
Teams integration
CRM Integration
Screen sharing
Web based browser
Interactive voice responses
Using our employee-designed desk phone can allow colleagues to be more connected and collaborative by knowing when they're available and being compatible with different platforms and audio devices. VoIP Maximises convenience, performance and collaboration over any traditional landline.
3. Reduce carbon emissions
VoIP reduces transportation emissions as employees can remotely join meetings, conferences and collaborate from home. Businesses can also reduce their energy consumption and carbon footprint as VoIP systems rely on hosted servers to store all communication data. These servers are highly efficient and can handle high volume traffic, meaning organisations can decrease the number of physical servers required to keep their data.
VoIP from Your Co-op also reduces your businesses carbon emissions each month as it's a climate positive service. For every VoIP product, 25kg of CO2 is reduced and a tree is planted each month thanks to our climate impact partners Ecologi. By switching to the Your Co-op, the only Co-operative telecoms provider in the UK, your business can achieve their sustainability targets in no time, with no effort.
Simply switch to VoIP with Your Co-op Business Solutions and easily cut your carbon emissions.
4. HD Audio for clear conversations
VoIP calls are clear and free from interruption, lag, or dropouts, bringing an end to unprofessional sounding calls with customers on a traditional landline. As long as you have a good connection and a decent bandwidth your VoIP calls will be flawless.
5. Mobile and flexible
If your Employees need to take their work on the go, then VoIP can supply a continuous connection wherever they go. The rigid tie of a traditional phone system to a specific office desk has now been eliminated by the ability to take VoIP anywhere. Employees can use apps to connect to their mobile phones to have the freedom to work anywhere.
6. Simple conference calls
VoIP-based conferencing phones bring a new level of convenience, performance and professionalism to business meetings. The key features of our base conference phone include:
4'' touchscreen
Group conference calls
Black acoustics fabric, resistant to water/oil/stain
Optimal HD audio
360-degree voice pickup microphone (6-metre range)
5-way conference call
Built-in Bluetooth/Wi-Fi
Whilst it is possible to host conference calls using a traditional phone system, there are obvious drawbacks like paying for the additional service/equipment and sub-par audio. Why not take advantage of equipment that is built for meetings with modern technology?
7. Greater reliability
VoIP systems are less susceptible to service disruptions caused by weather conditions or other external elements. In contrast, a traditional phone system can have an outage at a single location which could potentially stop the connected network.
A misconception about VoIP is that if the internet stops working, so does VoIPs entire functionality. Thankfully, features such as call-forwarding ensure that even without internet access, VoIP is still useful. Businesses will never lose productivity like before, as calls and messages can be automatically forwarded to mobile devices or laptops.
In-fact, VoIP is actually the most future-proof phone system businesses can now opt for, as they will be unaffected by the 2025 switch off and operate via FTTP.
8. Heightened security
VoIP can mitigate security threats made via the phones, such as social engineering. The advancements made in IP technology have included encryption and improved identity management to protect businesses. We ensure your business calls are safe and genuine, so you don't have to.