How Fair is the Fairphone 4?
Published date: February 2023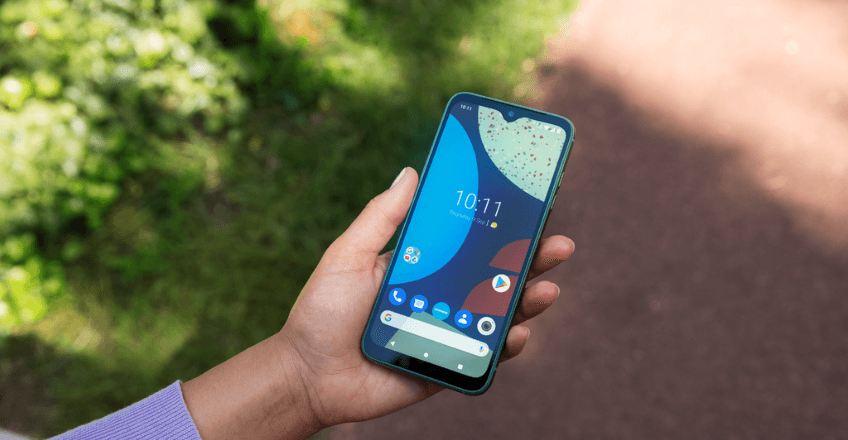 Your Co-op Mobile proudly offers the Fairphone 4, the world's most ethical phone with the benefits of Fairtrade materials. We are committed to offering climate-positive products that can aid sustainability in everyday life, by cutting carbon emissions and using fairtrade products. Members can receive 20% off all
Fairphone bundles
for a limited time only - including 10GB, 30GB, 100GB, each with Unlimited calls & texts.
Unrivalled Fairtrade
When signing up for a Fairphone 4 contract, you are getting so much more than a mobile handset, you are supporting an ecosystem of Fairtrade and fair production. In 2023, fair materials are to increase to 70% of the 14 materials which makes the Fairphone 4. This is just one example of the constant push for greater sustainability, so customers can lead more ethical lives without changing their day-to-day lifestyles. Fairtrade gold however has been a key material in the Fairphone since its release and has pioneered its use in mobile technology ever since.
Transparency is evidently a key principle to Fairphone and is vital in creating and maintaining a fairer supply chain. The gold covenant was strictly aligned with this principle as annual due diligence reports from its signatories were necessary, which included a rating of their quality. Such reports provide opportunities for companies to openly detail their due diligence approach and share each step of their supply chain. The gold covenant awarded Fairphone the highest possible score for their
last rated due diligence report
.
Of course, the mission drives Fairphone to go beyond the necessary due diligence; to develop effective solutions that can deliver positive impacts for the people at each level of the supply chain. This is achieved by investing in suppliers who are the most marginalized, and by growing their capacity to reach required quality and sustainability standards, we can then link them to the supply chain. This model does create higher risks, though has the real potential for greater positive impacts, which hopefully inspires other businesses in the industry to do the same.
Other materials that make this a green phone is fair cobalt and aluminium, responsible lithium and recycled plastics amongst others, though Fairphone is a part of many initiatives that help to carry out kinder mining practices which are less harmful to their environments, safer and higher pay for the workers involved. If you wish to learn more about Fairphone, please read their
Impact report
.
How long does a Fairphone last?
The longevity is very simple and realistic and the longer it's used, the smaller the carbon footprint of its use becomes. The Fairphone 4 is built to last for as long as possible, which saves money and increases the sustainability of the Fairtrade and fair materials used in the production. To ensure this is realistic for each user, a 5-year warranty and software support for the Android operating system is standard from Fairphone.
However, as we all know, accidents can happen when handling a smartphone and so, Fairphone has made many of its components replaceable. Their simple and affordable replacements can be performed at home for the screen, back cover, battery and more, to help sustain longevity. Fairphone stated in 2021 that their longevity can surpass 5.5 years for an average user which is approximately 3 years longer than the average mobile phone cycle (2.5 years).
The Fairphone 4 will help to end
e-waste
and as a company, they are the first to be 100% e-waste neutral.
What is Fairphone made of?
The Fairphone 4 specs reflect its deserved title as the world's most green phone, though what is in your hand? The immersive 6.3-inch Full HD+ display made from 9H tempered glass is wrapped in a smooth aluminium body and soft, recycled plastic back which is the shell of a progressive and ethical symbol.
5G is a go on the Fairphone 4 too, so you can video call friends in HD, stream the highest quality music and even download movies on the move. Not only this but the dual camera system with 48 Megapixels can live up to the quality of Fairphone's sharing speed and Full HD+ display. Fairphone with 5G opens up new possibilities, in seconds.
We don't feel that for being a 'fair phone' to its supply chain and workers anything is sacrificed, in-fact it's the largest bonus to any handset to date. It's a symbol of defiance against the damaging practices and pollution of the technology industry, that is what the Fairphone 4 is really made of.
The climate-positive difference
Your Co-op Mobile is helping to further the sustainable strides set by Fairphone by delivering a carbon-reductive element to each Fairphone contract. This is made possible by our climate-activist partners,
Ecologi
who plant trees for each of our new customers, and reduce 10kg of CO2e every month. Creating a reduced carbon footprint for all of our Fairphone users, so the world's most ethical mobile is truly climate-positive.
Members get more
Your Co-op Mobile is now offering Members the chance to get 20% off for a limited time only when switching to any Fairphone 4 bundle. This includes 10GB, 30GB and 100GB, each with Unlimited calls & texts.
We are committed to offering our members and customers the best products available, which are capable of making a difference in carbon footprints and sustainability. Our climate-positive
mobile
and
broadband
can reduce your CO2e emissions by up to 20kg each month.
If you would like to explore Your Co-op membership, please
visit here
.