All you need to know about the repairable Fairbuds XL
Published date: May 2023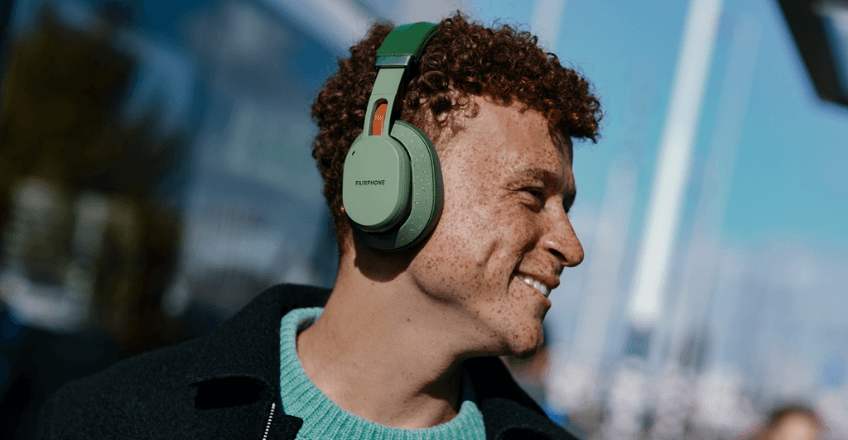 Welcome to the ethical and repairable headphones, the Fairbuds XL from Fairphone. By harnessing green technology and a modular design, these comfortable headphones last much longer and with minimal environmental impact. Your Co-op will also plant a tree for every Fairbuds XL purchased, for future decarbonisation.
Fairphone continues their fairness
Made by Fairphone, they are 100% repairable and are the world's first headphones containing 100% Fairtrade gold and directly contributing to climate projects. Not to mention the 100% recycled aluminium and 80% recycled plastic, offering a new step into a world of sustainable living.
The wireless
Fairbuds XL
have a 100% modular design so all 9 parts can be easily and affordably swapped so that you can enjoy the reliable all-day comfort of your sounds. Even if you manage to break your headband or wear the earpads, you can replace what you need in no time. The Fairbuds XL do good for the planet and your money.
Fairphone also provides a 2-year warranty and a commitment to long-term software support, so your Fairbuds are in it for the long haul to
end electronic waste
.
Superior sound meets green technology
A new superior sound experience that lasts longer than all-day with 30 hours of battery life. The first headphones harmonising clarity from a dynamic 40mm driver and unrivalled green technology, resulting in a deep bass, warm mids and clear highs for even longer. Control the world around you with noise cancellation or an ambient setting so you can always hear and be heard.
Get the most out your music with adjustable EQ settings in the Fairbuds XL app for IOS & Android. Enjoy the signature presets by
Sonarworks
, a team of Grammy award-winning sound engineers who worked in collaboration with Fairphone to ensure the best sound quality possible. The Fairbuds XL app also provides you with:
Quick start guide
Tutorials
Battery Status
Troubleshooting
Ordering spare parts
The Bluetooth 5.1 connection can hold 2 devices at once so no one has to miss out and you can even plug in for a traditional USB-C headphone experience. Regardless of your connection, you'll always have smart voice assistants available like Siri and Alexa to help you through the day and minimise pauses between your sounds.
100% repairable
The 9 modular parts that make the Fairbuds XL can even be purchased separately and assembled at home, it doesn't get more repairable than that.
Battery - The original Fairbuds XL battery comes with better than all-day power (800 mAh) and is easy to replace in no time.
Speaker cable - This single cable may seem unremarkable, but is secretly the unsung hero of the Fairbuds XL. It connects both speakers to provide the comforting sound of these ethical headphones.
Headband base - Made with 80% recycled plastic, this is the structural point of the headphones to ensure they are worn securely and comfortably. Though it can always be swiftly swapped out with a screwdriver.
Speakers - Easily replace the centre stage of your versatile listening experience with voice assistants available. Just take a screwdriver to the speakers for an upgrade.
Headband - This band puts the head in headphones, letting you take on the most vigorous sound sessions with adjustable sizing to get your perfect fit.
Vegan leather - So plush you'll hardly know your Fairbuds XL are on - providing all-day comfort for your sounds. Simply slide off the headband or twist off the ears and you're ready to replace.
Speaker cases - Protecting the inner workings of the speakers with 80% recycled plastic. This first line of defence is well worth swapping if it ever comes to it.
All together these parts make the Fairbuds XL whole and durable, with dust and water spray resistance from all directions, for truly all-day use.
What's in the box?
The Fairbuds XL box itself is 100% plastic free, made from recycled paper and printed using only vegetable ink for the most minimal environmental impact and packaging that can be recycled. Alongside the headphones is a quick start guide to get you running straight out the box, a health and safety guide and a pouch so you have a soft carrying case for your Fairbuds XL.
Save on the Fairbuds XL and Fairphone 4
Members have the chance to swap to the green bundle with a new Fairphone 4 and Fairbuds XL. Starting at £42 p/m, you will be making a climate-positive difference with 25kg of Carbon dioxide reduced each month and two trees planted when switching for the ultimate ethical deal.
Click here to learn more about the Fairbuds XL