7 ideas to enjoy Christmas with a conscious and ethical mind
Published date: December 2019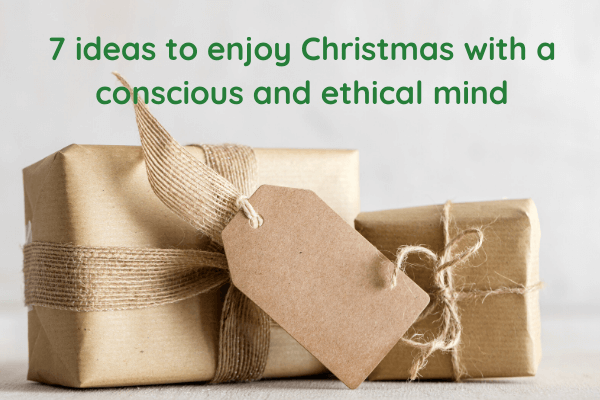 Sharing not only makes others happy but also ourselves. Christmas is the perfect time to give, and we encourage you to assess the value of the things you are giving and to think consciously and environmentally friendly. Approximately £42 million of unwanted Christmas presents are thrown in landfills each year. We encourage you to apply these three 'R' rules: Reduce, Recycle and Re-use.
What does it mean to shop ethically?
All our purchases have an impact on people and the planet. But we can try to make sure this impact is positive, making sure that the gifts we buy or make not only benefit the recipient, but also the producer and the planet. Many people prefer their purchases are not the result of irresponsible exploitation of people or natural resources and that their manufacturing process does not pollute.
How can we do ethical shopping this Christmas?
Buy locally
We recommend you buy in your independent local shops to reduce the miles travelled in your car or even stopped completely if possible. You will receive personalized service and more importantly, you'll be supporting your local community. If you can't find what we're looking for around you, search for many of the websites specializing in ethical shopping.
Buy with a conscience: Fairtrade label
Look for products labelled with the Fairtrade mark or buy them in the growing number of fair-trade shops, which ensure that workers have received fair conditions for their work. Nowadays, in almost every industry you can find products that have been produced under fair conditions. It's the case of
Fairphone
, the smartphone that is made of recycled materials and the first mobile that contains Fairtrade gold, and its production didn't exploit anybody in any way.


Donate to a good cause
What if your present this year is to contribute to a good cause? You can help projects that seek to improve education, health or social inclusion. If you are not sure about what organisation you can get involved with, follow our
advent calendar
with a difference this month. Each day of the month, we're giving a voice to a different organization, such as Anthony Nolan or Thrive.
Reduce waste
While the rest of the year each person generates a kilo and a half of rubbish a day, two and half kilos over the festive period are currently just wrappers and packaging. Try to avoid single-use products, such as plastic bags or containers. Buy the contents and not the packaging, choose products with returnable or reusable vessels.
Holiday with an ethical conscience
A sad image of the Christmas holidays is to see how, gifts made with the best intentions can become a hindrance we do not use.
Not all presents have to be a physical item - thousands of experiences will have more value than any object or thing we can think of. We encourage you to spend a few days out of your home - be that town, city or village - in a relaxing environment. There are hundreds of picturesque and charming places that are surrounded by natural and wonderful landscapes and also built with an energy efficiency criteria.
Be creative
Christmas decorations are used for a very short space of time so we can easily re-use them from one year to the next. We can also unleash our imagination and create our own Christmas decorations. Kids will love to collaborate!
We encourage you this year to not buy wrapping paper (stats showed that every year more than 8,000 tonnes of wrapping paper are sold and wasted) but to use recycled paper or even just give a second life to your newspaper. Be creative and try sustainable DIY craft ideas with things you have at home.
Adopt a pet
Have you considered saving an animal this Christmas? There are lots of rehoming centres that have cats, dogs and other household pets that are desperately wishing to find a family home to join this Christmas. You will not only be giving a pet as a new addition to your loved ones, but you will also give a home and second opportunity to an animal in need.