Will you Make your 'Green Monday' really Green
Published date: November 2019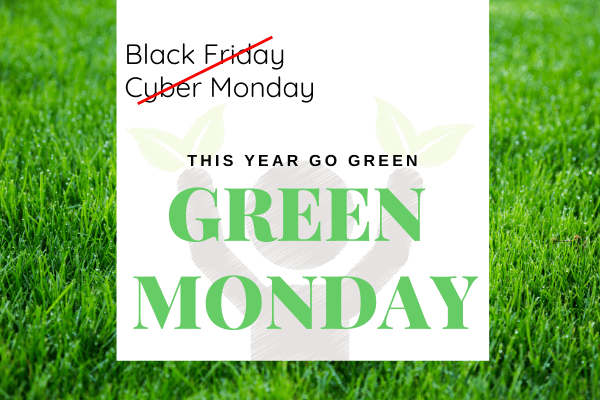 Have you ever heard of 'Green Monday'? It's the biggest shopping day in December, celebrated on the second Monday of the month. Green Monday was created in 2007, when eBay reported that it's one the busiest day for retailers. At The Phone Co-op we don't do Black Friday, Cybermonday or Green Monday offers, we'd like you to buy less, which is the greenest way to celebrate the holidays, and we commit to always offering you the best policy value for money.
Black Friday, followed by Cybermonday, is planned to mark the beginning of the big shopping season, when some people start buying their Christmas presents. Last year, over 165 million people shopped over the weekend and brought an impressive £7 billion pound cash injection to the retail sector, according to Sigma.
The rising tide of consumption is bringing terrible consequences for the planet. However, this year, more than 300 clothing brands in Europe are trying to reduce the impulsive consumption that comes along with Black Friday, encouraging people not to buy things they don't really need. 'Make Friday Green Again' was a movement started by Nicolas Rohr, one of the co-founders of eco-friendly, clothing company, Faguo.
The 'feel good' factor hits shopping
Ethical shopping is one of the fastest growing sectors in retail today and there is greater expectation for brands to be ethical and transparent. Trends like Fairtrade and organic are boosting the motivation of consumers to know more about the provenance of their food, fashion and electronics, and the people who produce it.
At The Phone Co-op we'd like to promote conscious consumerism. We don't want to sell you a cheap discounted phone that you will need to upgrade in a year or two. We'd like that you use your current phone for as long as you can because we believe thatas the most environmentally friendly phone is the one you already have. We want you to get a new one when you really need one, not just because there is a new version available. That's why we'd like to promote Green Monday and increase awareness about eco-friendly alternatives and giving back to the community.
We're supporting projects such as Fairphone, a Dutch start-up that is driving a meaningful change in the telecommunications industry. Fairphone created the world's most ethical phone, sourcing as many materials as possible in both human and environmentally kind ways. If your current phone is no longer working, we encourage you to recycle it and think about the environment and people who work in the telecommunications industry. Fairphone could be your new phone, the only smartphone made with Fairtrade Gold and recycled materials.
We want you to join us for broadband when your current contract expires because we have the best value superfast broadband in the UK and when you join as a member, you receive dividends back. We're the only UK telecoms co-operative and our aim is to build long, sustainable relationships with our customers. Our business lead Nick Thompson, says "Our goal is to provide you with Britain's best value, best experience broadband, and we work hard to make that a reality. Every one of our members is a person, not just a number, and we do everything we can to deliver a brilliant, co-operative experience. Come and join and if you're not delighted we will personally make sure we do everything we can to resolve that. We don't want to encourage impulse buying and we don't want to manipulate our customers by discounting old stock as if it as a once in a lifetime deal. We are ethical and we provide you the fairest deal you can get on broadband with our Fair Price Promise.
So enjoy the run up to Christmas, please come to us if you really need a new phone or your broadband or line rental contract is coming to an end, but don't expect to see flash sales across our website.