We are The Phone Co-op
Published date: January 2017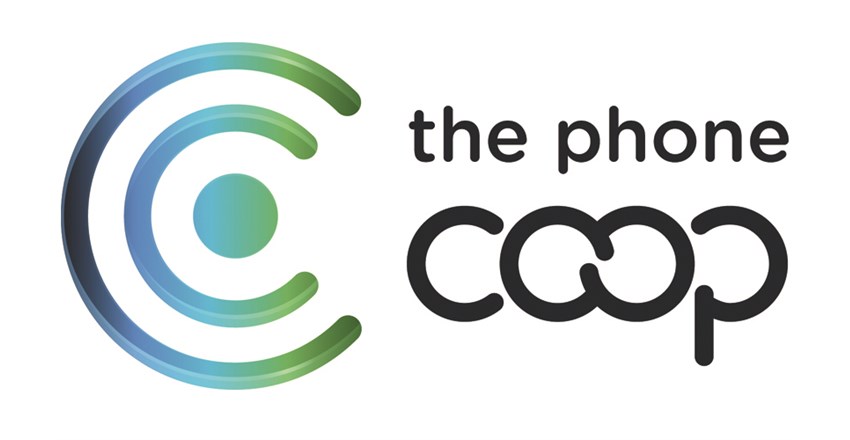 By Pat Moral
The Phone Co-op team is very excited to share great news with all our customers and members. In the next few weeks, you'll start noticing some changes to the way our website, stationery and social media channels look. We've thought very hard about what we want our logos and image to say about us and we are very happy to present you with a new visual identity for The Phone Co-op.

In 2012, we adopted the wider 'The Co-operative' brand identity to give us greater visibility as part of a bigger national project by the whole co-op movement. With recent changes at Co-op Group, and a change to their visual identity with the blue clover leaf design returning, we have taken the opportunity to refresh our brand.

Our mission is to serve our members and inspire others with an alternative and better model for business and the economy - and a key way of doing this is to allow ourselves to stand out visually in an increasingly digital world.

We worked with a local design agency, Blue Moon in Worcestershire, to create a visual identity that conveyed the fact that we are a technology and communications business and also that we are part of the wider co-operative movement.

Jacci Marcus, Head of Sales & Marketing,

"our brand identity needed a refresh to fit with marketing strategy to position The Phone Co-op clearly, and to enhance our visual appearance in an increasingly digital world".


In our new look, we wanted to incorporate the COOP marque of the International Co-operative Alliance (ICA), so that the links to the wider co-op movement were still visible and clear. The ICA COOP logo was designed by the workers co-operative

Calverts

and its use and prominence illustrating our commitment to the worldwide movement, with our co-operative values proudly on display.

Our new beacon telecoms symbol also reminds that, as a consumer co-operative, our customers and members are at the centre of what we do. Our purpose is to be a beacon for positive social change, and our vision is to be a global beacon of co-operation and the telecoms choice for the ethical customer.

Vivian Woodell, Chief Executive of The Phone Co-op, said:

"We are delighted with the new branding, and the Board is fully behind the change. It reflects what we do, as a vibrant technology business, and it also communicates our values as a co-operative and part of the international co-operative movement, which is at the heart of what we are all about".