The Fairphone 5 vs 4, which is right for me?
Published date: September 2023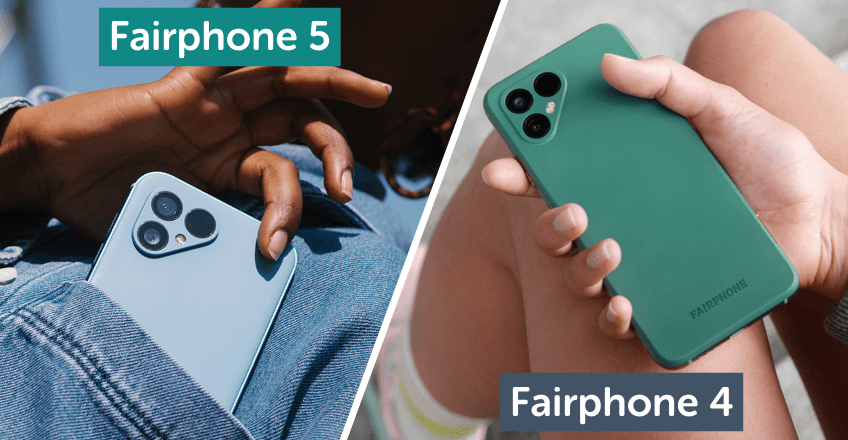 With the launch of the new Fairphone 5, you may wonder which Fairphone is right for you when switching to a sustainable smartphone. The Fairphones are powerfully performing Androids that blend fairness and technology better than any other, resulting in the longest-lasting smartphones available. The Fairphone 4 and 5 help people and the planet like no other devices.
Modular phone - minimal waste, maximum longevity
By being a modular phone, each Fairphone can save carbon emissions and precious materials by utilising individual parts that can be easily swapped out in minutes. This ensures that there is only minimal waste if there is a cracked screen or a worn battery, there's no need for a new smartphone.
At the moment, most smartphone users tend to keep their device for 2.5 years, citing an end to their contract, a breakage or liking a new model as a reason to switch. However, Fairphone has turned the tide on this cycle of waste by offering a modular phone that is built to last and is e-waste neutral. For every new Fairphone 4 or 5 user, a phone is recycled by Fairphone.
The level of modularity for each smartphone is unmatched so you can be confident in the repairability and longevity of both. The Fairphone 4 is the only 10/10-rated mobile by iFixit and it's expected that the Fairphone 5 will follow suit. If you want your phone to be extra repairable, the Fairphone 5 has 3 new modular parts and it's now even easier for you to repair at home.
How fair is the Fairphone 5 & 4?
Users of the Fairphone 5 and 4 can take comfort in knowing they are supporting the world's most ethical smartphone brand. Fairphones contain a unique to-market material, Fairtrade Gold which ensures high-quality working conditions, health and safety, women's rights, no child labour and protection of the environment. These values align with us as a Co-operative as we help to build a fairer and more sustainable society for all.
The Fairphones differ in their volume of fair materials as the new Fairphone 5 has an increased 70% whilst the Fairphone 4 contains 40%. However, both are made from responsibly sourced and up to 100% recycled materials including plastic, aluminium and magnesium. Other materials such as tin, cobalt and lithium are sourced safely by skilled and fairly paid workers using practices that don't sacrifice the environment.
Once the materials are collected, the Fairphone 4 and 5 are manufactured by the same workers in the same factories that hold SA8000 certification. This is one of the highest levels of accreditation in the consumer electronics industry and isn't held by many smartphone manufacturers. Fairphone and its suppliers guarantee one of the highest standards for safety and decent working conditions. Read more about the
workers of Fairphone here
.
Ultimately, the Fairphone 5 levels up the fairness of the previous generation, which made it the most ethical and sustainable smartphone ever created.
Fairphone 4 now from just £460
Enjoy the Fairphone 4, from £500 to now just £460, its lowest-ever price. The most affordable way of adopting a more sustainable life without changing your lifestyle. All whilst using the latest and greatest generation of Android, superfast 5G and a sharp 48MP dual camera system.
By keeping your Fairphone 4 for longer, you save even more emissions, as each year the carbon footprint of your mobile use is decreased by 31%. The industry-leading ethics of the Fairphone 4 have been researched every step of the way and has been awarded the Ethical Consumer Best Buy product label.
The new Fairphone 5
The powerfully performing and longest-lasting smartphone, the Fairphone 5. Enjoy levelled-up selfies, 4K videos and a 50MP triple-camera system displayed on a picture-perfect OLED display. Stay connected with superfast 5G and always reliable with a modular design covered by an industry-leading 5-year warranty.
Not to mention an industry-first 8-year supported Octa-core chipset, keeping users faster for longer than everyone else. Speed, functionality and longevity together like never before make the Fairphone 5 the future-proof mobile for all.
The most sustainable smartphone bundle
If you love the Fairphone's sustainability and powerful performance, then you'll love our climate-positive SIMs to boost your carbon-cutting power. Our SIMs which use EE's No.1 5G network, cut your carbon footprint by 25kg and plant a tree every month. Thanks to our climate impact partners Ecologi, we can help our customers adopt low-carbon lifestyles easily and without compromise. We even include free EU roaming and provide award-winning customer service, recognised by Feefo.
Boost your Fairphone with a carbon-cutting SIM and help people and the planet without compromise.