How to reduce your carbon footprint with broadband
Published date: August 2021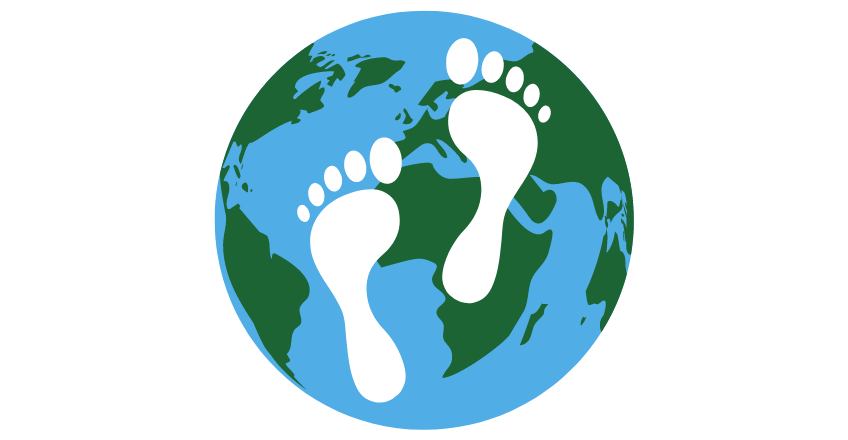 The rising popularity of value-based consumerism has increased exponentially over the last few years. It results in conscious consumers demanding that brands do and act in a way that has a positive impact on the planet, reflecting the same values that they have adopted.
Consumers are responsible, choosing to slow down on consumption and where possible, reduce as much as they can.
There are enough climate solutions available right now, that if we supported them, it'd undo 30 years of carbon damage. Ultimately this would avoid 1,500 billion tonnes of CO2e.
The question is, where do you start? Let's begin with your current climate contribution. Do you know the number of your carbon footprint? The majority of us are unaware as to what that number actually means, let alone represents. Here's the definition:
A carbon footprint is the total amount of greenhouse gas emissions from the production, use, and end-of-life of a product or service. It includes carbon dioxide — the gas most commonly emitted by humans — including methane, nitrous oxide, and fluorinated gases, which trap heat in the atmosphere, causing global warming. Usually, the bulk of an individual's carbon footprint will come from transportation, housing, and food.
The average carbon footprint per person in the UK, per year, is estimated by Pawprint as 12.7 tonnes CO2e. However, our goal as society is to lower this and so that we can make a positive impact towards the future of our plant. We can do this both as businesses and consumers.
Sourcing a solution that helps businesses and consumers simultaneously measure and take active change on the climate crisis is a platform called Ecololgi. Co-op Broadband has chosen to partner with this platform due to the positive impact that can be made.
The consumer offering allows subscribers to easily calculate their approximate carbon footprint (or that of their household) and to sign up for a monthly subscription which guarantees that their footprint will be completely reduced to zero.
They provide this service via a combination of funding climate change projects around the world that make a difference right now and funding tree planting / reforestation schemes, contributing to carbon sequestering in decades to come. All the work that Ecologi does is traceable and backed up by comprehensive records. They only fund carbon reduction projects which have been independently verified to an industry-leading standard, such as the Gold Standard or the Voluntary Carbon Standard.
What is really attractive when it comes to the offering is that the program is interactive yet simplified. One can make a difference, viewing and sharing their own impact.
In order to cut the carbon produced by our broadband and Fibre products we have partnered with
Ecologi to provide two solutions for us.
1. Direct Carbon Reduction: Each month we fund the reduction of 50 kg of Carbon for every Customer using one of our climate positive services, Ecologi then invests that money into projects that remove more greenhouse gasses than the service is responsible for creating. Each month they support a range of carbon reduction projects that are certified at the very highest level by Gold Standard and equivalent.
2. Tree planting: It's now common knowledge that one of the best tools to tackle the climate crisis and to keep our temperatures from rising above 1.5C is to plant trees. They are also crucial to preventing ecological collapse.
We also fund the planting of a new tree for each customer, every month they use our Climate Positive Broadband service via Ecologi's tree planting partner, Eden Reforestation Projects. Through this they plant millions of trees around the world each month.
As far as our product offering goes, we have done some pretty detailed work to understand the average carbon footprint of our broadband services (about 2.7kg), and we commit to funding work on projects that will reduce more than 20 times this amount of CO2e right now. In addition, we also plant a new tree each month for every customer who is on the climate-positive product set.

Added together, this means the products are responsible for removing much more carbon from the atmosphere than they create while being used (because of the projects they fund). They contribute to future decarbonisation (because of the trees Ecologi fund).
To see results off our partnership with Ecologi click here.
Based on our current progress and overall plan we have estimated that our average broadband service produces 2.674 kg per month to provide and maintain, however we believe that we should go beyond just being neutral and as such we choose to maintain our value of 50 kg per customer per month, as well as planting a new tree for every month our customers stay with us. This provides a combination of long term gain as well as a more immediate solution to slow down the increasing growth of greenhouse gases.
Together we can make a positive change and move towards a better future.
Save 10% as a member when switching OR Save as a member when switching to climate-positive broadband
When you switch as a member, you can get more back from Your Co-op. Receive 10% off the cost of all climate-positive broadband deals, by exclusively using MEMBERS10 at checkout. For every new customer we plant a tree and we reduce your carbon footprint by 50kg each month, with help from our climate action partners Ecologi.