How to redeem your free Fairphone 4 case
Published date: October 2023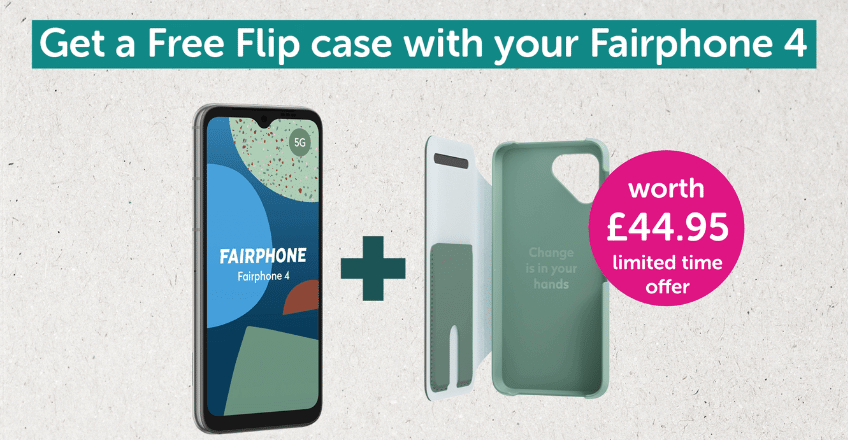 Enjoy the comfortable care and cardholder convenience of the free flip case when purchasing a Fairphone 4 from Your Co-op. Inside are two slot spaces for cards and cash notes, as well as a wraparound shell for protection at every angle.
It wouldn't be Fairphone without caring for the planet, so the premium moss-green case is made from 88% recycled materials. Save money and add comfortable protection to your Fairphone for free, with the flip case (RRP £44.95).
Steps to redeem your Fairphone 4 case
Purchase your Fairphone 4 from Your Co-op here.
Then register your purchase here.
Choose the Fairphone Flip Case in moss green.
You will then receive a confirmation email within 2 working days.
The Flip case will then be on it's way to you.
What's the Flip case made from?
Fairphone always go the extra mile to limit their impact on the environment and climate change and this even applies to their cases too. The robust shell and case structure are made from 100% recycled plastic. The soft and comforting elements are made from faux leather and 52% recycled polyester, meaning your flip case is 88% recycled materials.
Why the Fairphone 4?
Fairphone craft the most ethical and sustainable electronics anywhere in the world, let alone in the smartphone industry. Inside is a combination of recycled, Fairtrade, and responsibly sourced materials that make up the totally repairable design. Reparability helps the Fairphone be the longest-lasting smartphone on the market, achieved by modular parts that are easy to swap and are affordable too.
Ethically made technology doesn't come with sacrifices either, the Fairphone 4 is a powerfully performing 5G android with a sharp 6.3-inch HD+ display and 48MP cameras. What's more, it's electronic waste neutral and covered by an industry leading 5-year extended warranty.
Find out more about Fairphone
here
.