How the Amazon/Apple Deal is Bad News for E-Waste
Published date: January 2019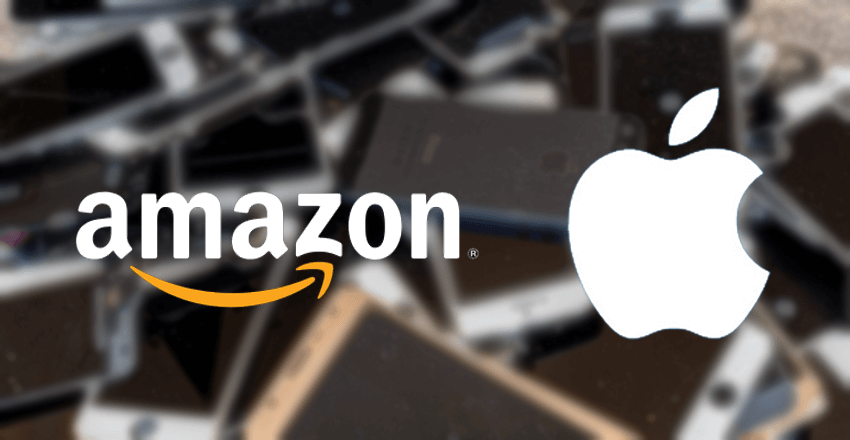 In November, the two biggest companies in the world by market value, Apple and Amazon, struck a partnership for new Apple and Beats devices, previously unavailable on the Amazon platform, to be sold through the online retailer, including stocking new Apple devices at Amazon warehouses.
In exchange, Amazon is restricting the selling of refurbished Apple products on the Amazon platform unless they are through dealers approved by Apple. All Apple products not sold by authorised resellers will be removed from Amazon on January 4th, 2019.
The deal applies to the United States, the United Kingdom, Japan, India, France, Germany and Spain.
This deal puts part of the used smartphone industry in jeopardy, and will contribute to the growing issue of e-waste, where old devices are being sent directly to landfill rather than safely recycled or refurbished.
Encouraging the growing electronic waste crisis
A leading contributing factor to the e-waste crisis is the trend of making smartphone devices as slimline as possible, which renders products harder to take apart and recycle separate components. This also makes products harder to repair, as they are increasingly difficult to dismantle without destroying the product.
While there are pushes to improve repairability and Apple has introduced its own recycling program, this new deal seriously affects those who have the specialised skills and resources to repair and refurbish existing products.
The announcement of the new deal not only affects consumers and small businesses, but it will also see a further impact on the environment through increasing e-waste and encouraging more purchases of new devices.
Making it harder to find refurbished products by restricting them from the largest selling platform in the world will also stem awareness that refurbished products are available, or that a customer's old device could be sent in to a company to refurbish.
Discouraging refurbishment companies to cover Apple products will only have a negative effect on toxic e-waste and attempts to recycle electronic devices to increase their lifespan, which is one of the most sustainable ways to combat the growing issue of e-waste.
Harming small refurbishment businesses
This deal will affect a growing cottage industry of those who refurbish and repair broken devices and sell them on the far-reaching Amazon platform.
Though businesses can apply to be approved Apple resellers, these approved sellers are required to also be Apple service providers, who need to buy a minimum amount of Apple product every year to the amount of $100,000. These approved resellers also require a physical 'bricks and mortar' location which customers can walk into, which many small repair businesses do not have.
This will have a large impact on small businesses or individuals who work on repairing Apple products, turning the practice into 'pay to play', where businesses must be a certain scale to turn a profit.
The throwaway smartphone culture
Issues such as planned obsolescence, where devices have a reduced lifetime built-in to the technology, or constant upgrades leading to phones quickly becoming incompatible with software or other devices has created a culture where many consumers expect smartphones to have a lifetime of two years or even less.
This doesn't need to be the case.
At the Phone Co-op, we are working to provide better ways for our customers to help tackle the issue of e-waste to provide a range of options for high quality refurbished phones.
The promising future of the used smartphone market
This deal certainly doesn't mark the end for small refurbishment companies, as they can still sell on platforms such as eBay or through their own eCommerce stores, but these platforms are nowhere near as lucrative or have as big a platform as Amazon, which dominates online retail sales.
However, the used smartphone market is currently on the rise, with incentives such as trade-ins and growing efforts by organisations such as the Environmental Protection Agency and attractive recycling programmes by phone manufacturers.
We believe there is a need for a socially responsible organisation to be encouraging us all to think again about smartphone usage and buying refurbished.
At the Phone Co-op, we provide many options to help consumers choose a great quality phone while helping to tackle to issue of e-waste.
Shop our certified Apple iPhone 6S deals here
Love your current phone and want to move to the Phone Co-op? Shop our SIM deals here
Keep an eye out for our expanded range of refurbished phones, available from Spring 2019.