Fairphone 5 - Powerful performance made ethical
Published date: August 2023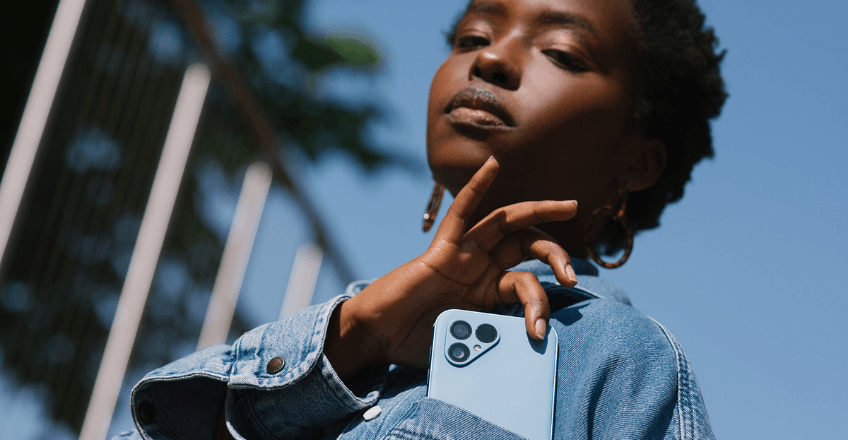 Fairphone, the creators of the world's most ethical electronics have officially launched their 5th generation smartphone, with the promise of long-term performance, support, and sustainability. Their mission is to prove that smartphones can have a low environmental impact and bring positive social change, so we can be kinder to the planet and people.
One of the features that supports this is a totally modular design, and so the Fairphone is easy to repair, making it the most cost-effective Android on the market. Available with 256GB storage which can be extended up to 1TB, in black, blue or a unique transparent option.
The Fairphone 5 is equipped with an industry-leading 5-year warranty, 5G connectivity, 8-year chip support and 70% fair materials. You'll be faster and more powerful for longer.
Don't let your smartphone leave a dent in the planet, support it with the Fairphone 5 instead for just £600 or £35 per month with a SIM bundle and only £24 upfront.
How is the Fairphone 5 fair?
Fair for the planet
The environmental impact of a smartphone mainly occurs during production, so Fairphone have reduced their carbon footprint with a climate-conscious effort. So, the longer you keep it, the more emissions you save.
The Fairphone 5 contains 14 focus materials to ensure they are always sourcing sustainably and fairly. Unique to Fairphone is Fairtrade Gold, a first in the mobile phone industry. Other materials include 100% recycled plastic, ASI-certified aluminium, and IRMA Iron. Together, 70% of the Fairphone 5 is made with fair materials, making it a truly sustainable option in the unethical smartphone market.
Fair for people
Together with their suppliers, Fairphone is making the mobile industry a far fairer place for workers from the beginning and end of the production process. The steps Fairphone have taken for workers include:
Living wage bonus
Representation is guaranteed for all workers by their partner Arima providing opportunities and platforms to raise concerns, suggest changes and more.
SA8000 certification which is amongst the highest standards of safety and fair conditions.
No child labour and provide assistance to small-scale mining communities to end child labour.
Every new Fairphone user helps to make the smartphone industry a better place.
Future-proof performance
The Fairphone 5 comes with a unique Octa-chipset with at least 8 years of software support, allowing for the fastest and most powerful Android experience. The industry-leading commitment to longevity provides a cohesive and customisable experience that's built to last.
5-year warranty as standard
To support the vision of longevity turning into reality, Fairphone have issued a 5-year warranty for all Fairphone 5 users. Once purchased, your warranty is automatically started, so users can start enjoying the longest-lasting, manufacturer-protected smartphone on the planet.
Modular saves money
The Fairphone 5 has a 10-part modular design which means all the different elements that make up the device can be individually and easily replaced. A broken screen or an ageing battery can be swapped out using just a screwdriver at home with affordable parts from Fairphone.
The world-leading repairability Fairphone offers allows users to stop the cycle of purchasing a new mobile every 2.5 years (average time kept UK). This culture of waste damages our planet as over 36 thousand tonnes of
E-waste
enters UK landfill each year.
To help end this issue, Fairphone recycles an old phone for every new Fairphone user, operating as E-waste neutral. keep your Fairphone for as long as possible and save money, the planet and end E-waste.
Specs of the Fairphone 5
The Fairphone 5 with 5G connectivity comes in one storage option at 256GB and 3 colours, including black, cool blue and a unique translucent option. Both the front and back camera sets utilise 50Megapixel systems for the sharpest snaps that match leading mobiles on the market.
Not only is there protection from a 5-year warranty and a modular design, the 6.4-inch display is made from tough Gorilla glass 5.