Fairphone 3+: the future is modular
Published date: August 2020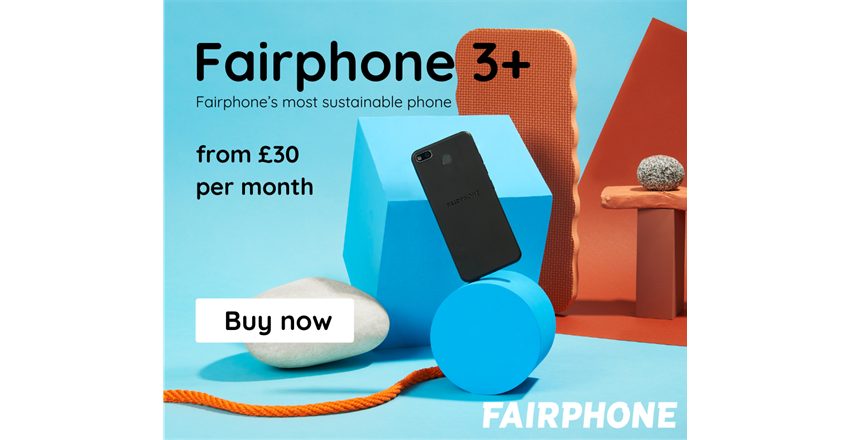 The mobile phone industry lives and dies on new releases. There's a school of thought that believes if you don't have the latest iPhone, you're missing out.
It's a mindset that's behind the sale of 1.4 billion mobile phones a year, many of them replacing old phones that worked perfectly well. But the difference between this year's model and last are usually at most, minimal and at least, cosmetic.
Most mobile phones are kept for under three years and traded in before anything goes wrong with them. It's a practice that contributes to increasing electronic waste (e-waste), the world's fastest-growing waste stream.
Trading our mobile in before we need to may help us avoid FOMO*, but it's not doing any good for the planet or, in many cases, our bank balance.
Next time you need a new phone, take a look at Fairphone, the Dutch-based social enterprise. The Phone Co-op has partnered with Fairphone since its launch in the UK market and is now able to provide the Fairphone 3+, the company's latest smartphone.
Fairphone 3+: picture perfect
Fairphone 3+ tackles the camera issues which were the main niggle with the Fairphone 3. The new camera module significantly improves the photo and video quality, as well as giving a louder, crisper sound.
The rear camera has been upgraded from 12 megapixels to 48 megapixels, and the front camera from 8 megapixels to 16 megapixels for sharper selfies and clearer video calls. There's also enhanced object tracking, faster autofocus and image stabilization for more reliable shots. The software is optimised for the perfect user experience.
The tech specs include a Qualcomm 632 processor, 64GB memory (expandable to 400GB with a MicroSD card), a replaceable 3000mAh capacity battery and strong Gorilla® Glass 5. It has Android 10 pre-installed, which will also be available for current Fairphone 3 users in early September.
Fairphone 3 camera module upgrade
If you already have a Fairphone 3, you don't need to miss out on the enhanced camera function: the camera module is available as a standalone upgrade from Fairphone.
The Fairphone's repairability means you can replace not only the camera but the battery, screen, headphone socket and other parts that get damaged, wear out, or have a better version you can upgrade to. You don't need to get rid of the whole phone.
Fairphone's aims for their phones to easily last between five and seven years before needing to be replaced – way more than the lifespan of a typical mobile phone. As well as reducing e-waste to landfill, using your phone for longer could reduce its CO2e footprint by up to 42%.
The Fairphone 3+ will be available from The Phone Co-op on the 14th September but you can pre-order yours now.
Fairphone's fair specs
Fairphone's ethical supply chain and manufacturing process is behind what the company calls its 'fair specs'. Every new phone developed builds on the technology of its predecessors and feeds into making its supply chain fairer for all those involved.
Projects supported by sales of Fairphone 3+ and the upgraded camera modules include collecting e-waste in Europe and sourcing Fairtrade and recycled minerals for manufacture. The business is also helping improve conditions in small-scale cobalt mines in the DRC and gold mines in Uganda, as well as supporting employee satisfaction programmes and living wage bonuses for factory workers in China.
Fairphone is launching The Circular Module Programme for Fairphone 3 and 3+, which encourages customers to return their old or broken modules free of charge for repair. Initially launched in Germany and France, it will roll out in other countries in the near future.
A partnership for change
Fairphone CEO Eva Gouwens summed up why Fairphone 3+ is a key milestone in the company's development.
"We're moving one step closer to a circular economy by encouraging the reuse and repair of our phones," she said, "The launch of the new camera modules and the Fairphone 3+ is a concrete example of how we're making this possible.
"By showing that it is commercially viable to care for people and the planet, we want to motivate the electronics industry to act more responsibly."
As Fairphone's first UK partner, The Phone Co-op is proud of its contribution to increasing its UK profile and customer base.
"Fairphone perfectly aligns with our own values," said Jacci Marcus, Head of Residential at The Phone Co-op. "Treating people and the environment with the respect they deserve, to us, goes hand-in hand with providing better, more sustainable products and services."
*FOMO: Fear Of Missing Out