Fairbuds XL review, the headphones from Fairphone
Published date: October 2023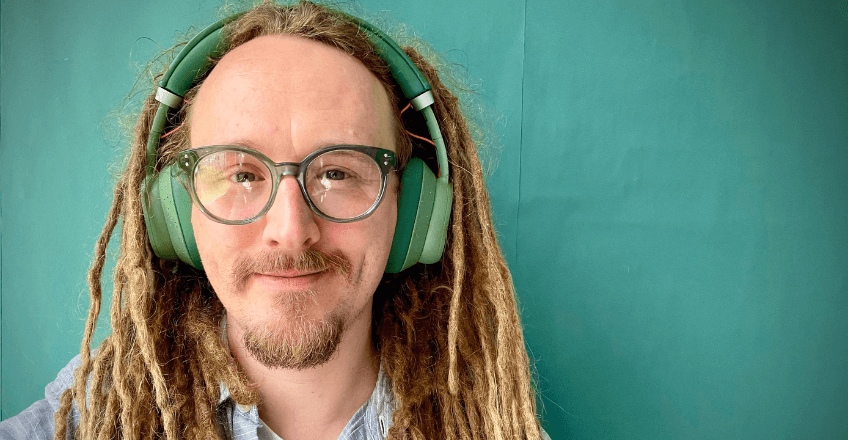 Headphones made fair by Fairphone, with a 100% modular design and sustainable materials, they're the most ethical on the market. To test these headphones, Your Co-op's Andy Kelley has reviewed a pair he has owned since the Fairbuds XL launch in May.
Andy's Fairbuds XL review
After already using a Fairphone 4 regularly for work, Andy was really excited about Fairphone branching out into the headphone market. "We had a few pairs on our stand at the Fairer Living Festival in May and I was really impressed with how solid and well-built they felt. I was very keen on getting a pair for myself and I'm really pleased with them."
Overcoming the Apple obstacle
For over 10 years Andy's personal mobile has been an iPhone, though like many of us, he's always opted for refurbished models when upgrading. Perhaps unsurprisingly, he hasn't been swayed by the Android operating system and feels "permanently locked into Apple's ecosystem now, as much as I love and appreciate my Fairphone for work".
However, Fairphone's Fairbuds ensure that people can still use sustainable and ethical electronics without changing their iOS or Android smartphone. "The Fairbuds XL work equally well with iOS and Android, so it's a great way for me to support the sustainable consumer electronics cause without having to change everything I've got so used to".
How does the sound compare to headphone market leaders?
"I've tested these alongside Apple's Air Pods Max and a pair of Sony WH-MX3000s and the sound quality holds up really well. They have an app which offers some control of EQ, and they support connection via Bluetooth to 2 devices simultaneously (so you can connect to a phone and a laptop at the same time)."
The signature pre-sets have been created by
Sonarworks
, a team of Grammy award-winning sound engineers who worked in collaboration with Fairphone to ensure the best sound quality possible.
"At £219, they're quite a bit cheaper than the Apple or Sony models, and I know that Fairphone uses as much recycled material as possible and work really hard to ensure the workers who build them are treated fairly."
How do they feel?
"They are really comfortable to wear for long periods and the noise cancelling is great. You can choose to have noise cancelling on or off, and there's a mode that lets some ambient sound through as well. I wore my headphones on a train journey up to Manchester a few weeks ago and they made the whole experience much more pleasant."
What are they like to live with?
"The battery life is good and easily made it through my 6-hour trip to Manchester and back on a single charge", a stretch of time that's more than enough for most people's daily use but the battery will actually last for up to 30 hours between charges.
Being made by Fairphone also provides the comfort of knowing there will be supported longevity and inexpensive solutions if any issues were to occur. "I know I can always replace the battery myself in a few years' time without having to get hold of specialist tools or follow complicated tutorials on YouTube".
All 9 parts can be swapped out with a twist, click or turn of the screwdriver, without comprising the solid feel Andy noticed when first holding them. "Users can expect the Fairbuds XL to last for years and years".
What are the Industry-leading sustainability credentials?
Fairtrade and Recycled Materials
Fairbuds XL are made with responsibly sourced Fairtrade and recycled materials, unlike any other on the market. Inside is 100% recycled aluminium and tin, 80% recycled plastic and 100% Fairtrade Gold.
Modular Design = 100% repairable
Crafted from 9 modular parts, your headphones can be easily and affordably repaired if the time ever comes. A modular design ensures longevity, minimised environmental impact and provides better value for money. With the Fairbuds XL, you won't have to worry about finding a new pair of headphones again as they are 100% repairable whilst being dust and water-spray-resistant (IP54).
Fairphone's mission is to prove that fair electronics is possible today and to influence market leaders who can contribute to worldwide sustainability. You can be a part of this when you switch to Fairbuds XL and contribute directly towards ethical and sustainable electronics becoming the norm across the industry.
If you would like to have your very own pair of the world's most sustainable headphones, please visit here.