£50 Price drop on the Fairphone 4
Published date: June 2023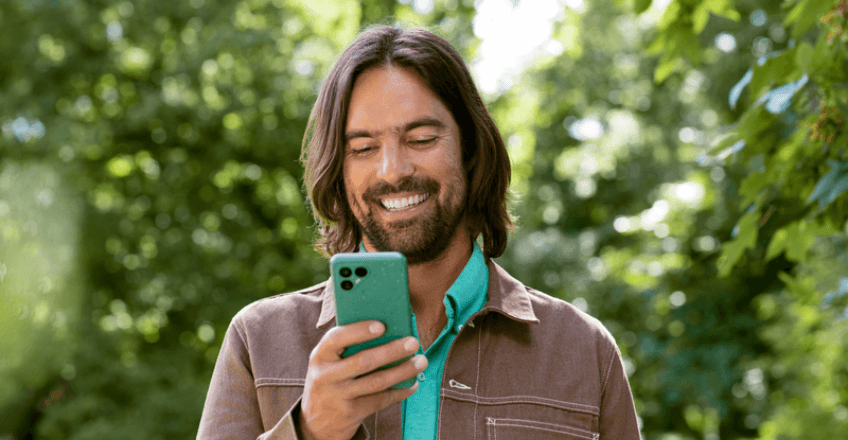 Save £50 on a brand new Fairphone 4 handset or receive £50 bill credit with a Fairphone bundle for a limited time only.
There's never been a better time to save money on the world's most sustainable phone,
now from just £450
. Help make a difference to the planet, simply by using the
Fairphone 4
.
The green phone that's changing the tech industry
The purpose of Fairphone is to instil change into a very unethical and carbon-intensive industry, that puts profit before people and our planet.
This is why Fairphone has innovated where it truly matters, by making their mobile the fairest on the market and using as many materials as they can, that are recycled, responsibly sourced and conflict-free. A single device is proving that the mobile industry can successfully harness sustainable technology that prioritises people and the planet.
Fairphone is simply ahead of the market and is excelling at creating a wholesome smartphone experience that enjoys all the features users expect from an Android device.
Cut your carbon emissions with the Fairphone 4
The Fairphone 4 is a simple solution to help live a more ethical lifestyle, unlike any other everyday electronic. By using your Fairphone for 5 years, you will have reduced your smartphone's annual contribution to climate change by 31%.
If you keep your Fairphone for a further 2 years this increases to 44%. This may seem like a long time to keep a phone, though one of the ways this is made realistic by Fairphone is an industry-leading 5-year warranty and software support, no matter where you purchase from.
A totally modular phone
A modular phone allows users to replace parts of the device such as the battery, screen, camera modules and speakers if the time ever comes to make an upgrade. It's easy to perform at home and is the only mobile with a perfect 10/10 iFixit score. Simply use a small screwdriver and you can get back to loving your Fairphone 4.
Fairphone's life cycle assessment confirms that replacing parts significantly reduces the environmental impact of the device. The majority of the emissions are created during the production process, though this is minimised by Fairphone as much as possible. Read the full life cycle assessment report
here
.
Do better for people and the planet
Fairphone has a worker-driven approach for the entirety of its supply chain and pushes way beyond ordinary compliance in the mobile technology industry. By working with a variety of production partners, labour rights experts and NGOs, innovative programs can be developed. As a result, they have improved job satisfaction, health and safety, and representation, which opens the lines of communication between workers and management.
By using Fairtrade gold and recycled plastics and metals, less mining takes place to produce each Fairphone 4. However, the minimal mining which does take place only uses the safest practices and by way of artisanal and small-scale mining (ASM). Reducing pollution and only extracting exact amounts of material in the process, whilst using skilled workforces and never child labour.
Fairphone is also the first smartphone manufacturer to be electronic waste neutral, meaning for every Fairphone 4 sold an old phone is recycled. This ensures the tech market isn't growing in volume, but just in ethical and responsible materials. Find out more about
e-waste here
.
A sustainable phone without compromise
A device that combines industry-leading sustainability and all the features users love about smartphones. Enjoy a crisp 48MP camera system, 5G connectivity, the latest Android 12 software and a 6.3-inch HD+ display for an immersive viewing experience. Not only this but there's a great battery life and an IP54 rating to protect the device from water spray, despite its modular design.
There's a whole lot to love about the Fairphone 4 but especially with £50 off until June 25th. Don't miss out on this limited-time offer here.