Why we all need Internet Security software?
Published date: August 2019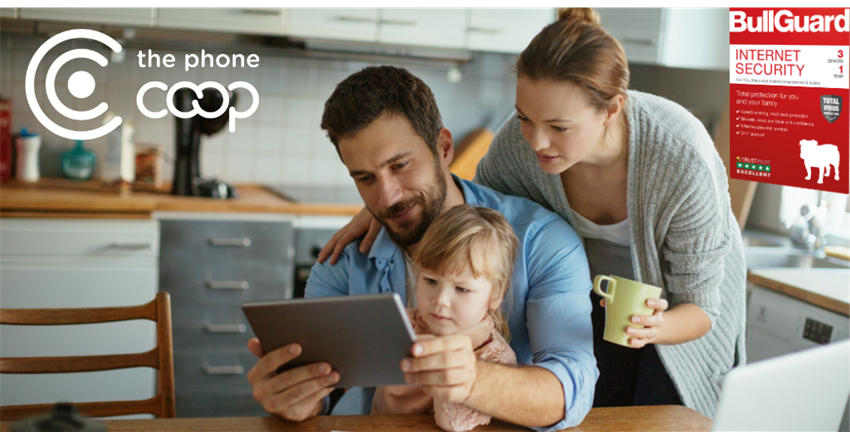 The Internet is a crucial tool in our daily lives, it provides unlimited information on a 24-hour basis, allows communication between people across the world and its potential lets the information provided to be updated quickly. Internet security is vital for protecting your personal and business information. Besides, as more people and organisations are using cloud-based systems, it is critical to reduce the possible harm of this information being stolen.
As a new customer of ours, you will receive award-winning BullGuard Internet Security free for 12 months, giving you protection for 3 devices across Windows, Mac and Android all with a single licence.
What is Internet Security software?
It is important to understand the difference between an antivirus program and Internet Security software. Antivirus and internet security basically have the same purpose: securing your online activity and digital life. The difference between the two lies in the features that are offered. Antivirus has the most basic of features; while the latter has much more to offer and is considered more comprehensive protection. Antivirus as its name suggests, usually only has protection for virus and other malicious software like Trojans and worms. On the other hand, Internet Security software, has additional features such as firewall, safe browsing, parental controls, identity theft protection, and more.
We are all today conscious of the need to stay protected online. Therefore, the big question is "Which Internet security software is the most suitable for my needs?" and it is crucial to make the right choice. Free BullGuard Internet Security features include Anti-Malware, Parental Control, Enhanced protection, and a Game foster to improve gaming performance.
Your Free BullGuard Internet Security license keeps you secure online all the time and protects all devices. Traditional signature-based detection with industry-leading behavioural detection is boosted with a never-ending stream of policy updates, delivered seamlessly to all end points, providing the ultimate in cyber protection. Enhanced vulnerability detection ensures users won't be caught by unpatched software. It includes powerful but discrete parental controls which will allow you to limit your children's time online, monitor their online activity and block access to suspicious websites. Whilst patent-pending Game Booster technology makes your gaming experience fast, fun and safe.
What is the gained value of BullGuard Internet Security?
BullGuard Internet Security has recently improved behavioural detection, vulnerability scanning and automatic detection of unsigned drivers with its intelligent triple layer protection. Its renovated scanner interface will allow you to understand your current protection and exposure levels.
Moreover, the parental control will allow you to limit your children's time online, blocking access to suspicious websites or monitor their activity online.
If you are a gamer, you wont' have to choose between speed and security, as the new features of the BullGuard Internet Security will make your PC run games faster than no security is installed.
Don't worry if you are still part of another contract, you can leave the end date of your current contract, and you will be able to enjoy the BullGuard Internet Security free for 12 months for one device.
It's time to start enjoying your digital life safely. Top rated by industry experts, BullGuard delivers 100% protection against web threats. If you would like more information about how to obtain the BullGuard license, do not hesitate to contact us.