Reuse, recycle and reduce: How to apply it to your use of technology
Published date: July 2020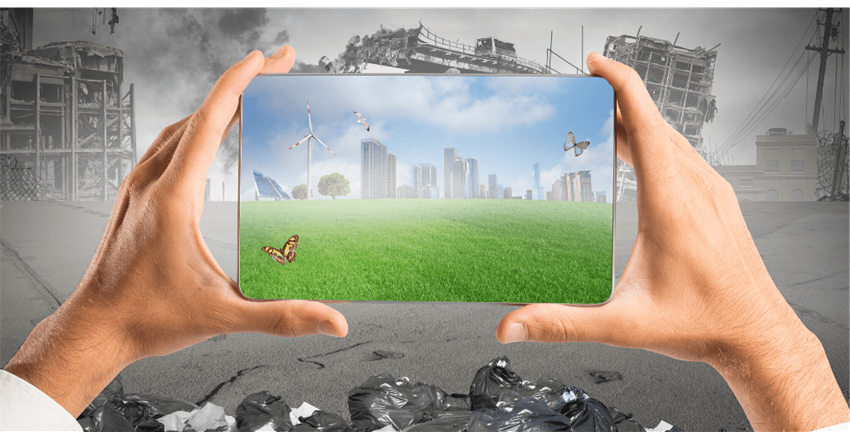 When we talk about sustainability there are areas of our lives we all know we should change. Recycling, choosing organic food, avoiding single use plastics, or saving electricity are some of the most common when we think as consumers, but there is one area that has become increasingly more impactful that must be taken into consideration: technology.
The use of technology can improve the quality of life and the socio-economic development of our communities.
The United Nations
points out that "information technologies are essential to respond to development challenges", thanks to the "impact of the digital revolution".
Today's fibre broadband is significantly more environmentally friendly than the copper-wired technology of the past. Fibre has a minimal ecological impact, reduces waste, consumes very little energy and helps decrease greenhouse gas emissions.
Despite knowing some of the information about sustainable development, do we really know what sustainable technologies are and how they help improve society? Here are some ways you can be tech-savvy and eco friendly every day:
Recycle your old devices and gadgets
We have to admit the truth, we all have a 'tech drawer' in our house, full of cables, batteries and even old smartphones that we haven't used for years. The reason why we have this is sometimes due to our lack of knowledge when it comes to recycling or disposing of these items. When disposing of electronic waste, be sure to find an
e-waste recycling service in your area
.
Advocate for Green Energy
There are tons of ways that you can be green, and cities are adopting measures to reduce the impact on our environment. Some places are using smart technology to turn their cities green, for instance implementing smart street lights or energy optimization tools.
As individuals, you can become more engaged with your communities, by taking part in any community energy project. There will not only be economic benefits for your area, but also social benefits, such as community cohesion, opportunities for education in energy efficiency and more. Our partner
Co-op Energy
is a total game changer, and with their partner Ripple Energy you have the chance to own part of the
first community energy wind farm.
Co-op Energy is the first supply partner of this great project that will help consumers reduce their bill.
Install a smart thermostat
Almost half of our average household energy comes from heating and cooling, so smart thermostats can be a real game changer for keeping home energy use in check.
Besides, you could have a smart meter at home which will provide near real time information on your energy use.
Buy fairer electronics
Smartphones are probably our most used tech products, and our most often replaced. In 2020, the number of smartphone users in the world is 3.5 Billion, according to
a report
. One way to help the environment is to keep your phone for longer and move on to a SIM only contract, this will slow down the cycle of e-waste and the production of new phones.
See SIM only deals
from The Phone Co-op.
The movement of fairer electronics is growing and evolving.
Fairphone
is an ethical revolution in the electronic industry, aiming to create a fairer consumer electronics market from within by making phones from materials that support local economies, ethical sourcing of raw materials, and overall making a positive impact across the value chain.
Their ethical credentials have been consolidated by
The Guardian
. The newspaper chose Fairphone 3 as 'the best ethical alternative' when you look to buy a new phone. Besides, iFixit gave Fairphone 3 a perfect 10/10 score for repairability as most of the components inside the modules are fully replaceable.
More remote working
Since the pandemic started, a huge percentage of the population stayed at home, proving that remote working does not affect productivity and the decrease of daily commutes in our cities were beneficial for our environment. With the
Unified Communications
software, working from home has never been easier. Stay connected with your team using a
business broadband connection
you can trust.
Whether you are applying changes to your household or your lifestyle, every little helps. It's a win-win situation, more consumers demand eco-friendly products and services, thus suppliers and businesses are pushing forward towards meeting their demands.
At The Phone Co-op we're commited to a fairer world, we encourage you to think about how your actions may affect the planet. With your support we can reconsider our actions towards how we use technology.