Is the Fairphone 4 the world's most eco-friendly Christmas gift?
Published date: December 2021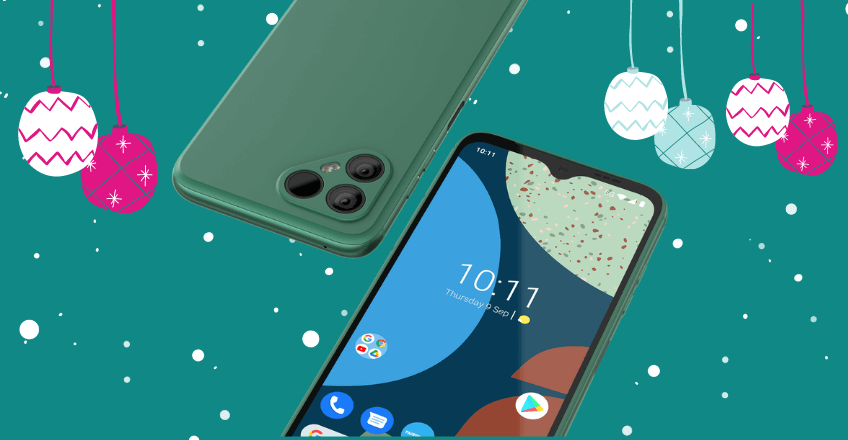 We know the Fairphone 4 is the world's most sustainable mobile, but with Christmas just around the corner and COP26 still very much in mind, we ask the question whether the Fairphone 4 bundle from Your Co-op mobile is also the world's most ethical Christmas gift.
Part of Your Co-op's DNA is to give back to society and help to create a better, greener world. We've been looking closely at how we can deliver ethical broadband and mobile products and services which is why we've partnered with the climate positive activist team at Ecologi, and Fairphone, to bring our customers the UK's greenest mobile bundle and truly ethical broadband.
What makes the Fairphone 4 bundle so green?
Fairphone 4 is built from 100% recycled plastics and responsibly sourced materials such as Fairtrade Gold and aluminium from ASI-certified suppliers. Its clever modular design allows you to repair and upgrade your phone when you need to and Fairphone promises long-term support and software updates so you can keep your phone for longer – reducing e-waste and emissions.
Repairing and upgrading is easy so there's no need to replace your smartphone each year, you can simply replace and repair parts - helping to save the planet and reducing CO2e emissions. Add that to a bundle of great data, unlimited calls and texts from just £31 a month and we think that's a pretty ethical Christmas gift.
But not ethical enough, for us. We've made purchasing broadband and mobile from us even greener.
Giving back through our partnership with Ecologi
Our partnership with climate positive generators, Ecologi has gone from strength to strength. We support Ecologi by helping to fund their range of carbon reduction projects that are certified at the very highest level by Gold Standard.
Every month we fund projects to reduce 50Kg of our climate positive broadband customers' carbon footprint (that's about 5% of the footprint of an average person in the UK). That continues for as long as a customer uses our services, so a typical 24-month contract will see us reduce 1.2 tonnes of CO2e.
We also plant a tree each month for every customer which will contribute to future decarbonisation when the trees mature in 10-20 years' time. In fact, we have our own forest with Ecologi and to date we've planted more than 3,500 trees and achieved over 190 tonnes of carbon reduction.
Put a Fairphone 4 bundle under your Christmas tree and we'll plant another one on your behalf.
So, we're back to the question is the Fairphone 4 bundle from Your Co-op mobile the world's most ethical Christmas gift?
As well as all the great green attributes that go with buying a Fairphone 4, when you buy a Fairphone 4 bundle this Christmas as a gift for yourself, a friend, or a member of your family, we'll also plant a tree on your behalf. We think that adds up to a pretty ethical Christmas gift. Don't you?
Here's where to place your Fairphone 4 order.