Greater Manchester Community Renewables
Published date: July 2016
Are you interested in supporting a renewable energy community project?
A new opportunity has arisen with GMCR (Greater Manchester Community Renewables Ltd). GMCR is a solar energy scheme which aims to raise fund to install solar panels on three Salford schools and a community centre in Trafford.
Primrose Hill Primary in Ordsall, Irlam Primary School and Fiddlers Lane Community Primary School in Irlam are all set to benefit from the scheme alongside The Fuse - a community centre in Partington.
Once the solar panels are installed the sites will benefit from lower electricity bills and a lower carbon footprint as a result of clean energy being generated from their rooftops. They will also receive educational support to help children and members of the community to learn about energy and climate change.
Any surpluses generated from the scheme will be put into a community fund and used to support eco-friendly projects in the local area.
GMCR share offer
A total of £186K is needed to fund the installation of the solar panels and fundraising is already underway with £131,350 raise at the time of this publishing this blog. We're very proud to announce that The Phone Co-op has invested £20,000 into this local community project. You too can invest anything from £100 to £20,000 but hurry, closing date is the 7th of July 2016.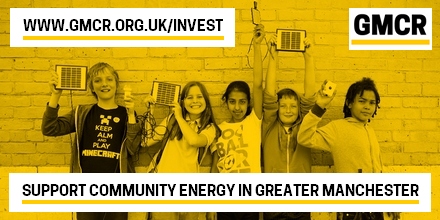 The shareholders will also receive up to five per cent interest on their shares each year, depending on the performance of the Society.




Elaine Darwin, Headteacher at Irlam Primary School, said:



"We're really excited to be part of this project. The solar panels will not only save us money on our energy bills, they will also be a great resource to help children and grown-ups learn about where our energy comes from and what it means for the environment."
Benefits
The GMCR estimate that the solar panels will generate:
110,000 kWh of clean, green electricity in the first year saving approximately 50 tonnes carbon dioxide equivalent
energy bill savings for the sites and educational support to help children learn about where energy comes from and its impact on the environment
a

Community Fund of £61,000 over the life of the project
If you would like to support them, they have setup a crowdfunding page, for more info about GMCR please visit their website
www.gmcr.org.uk
.