Fairphone's EcoVadis rating is now Platinum for Sustainability
Published date: October 2023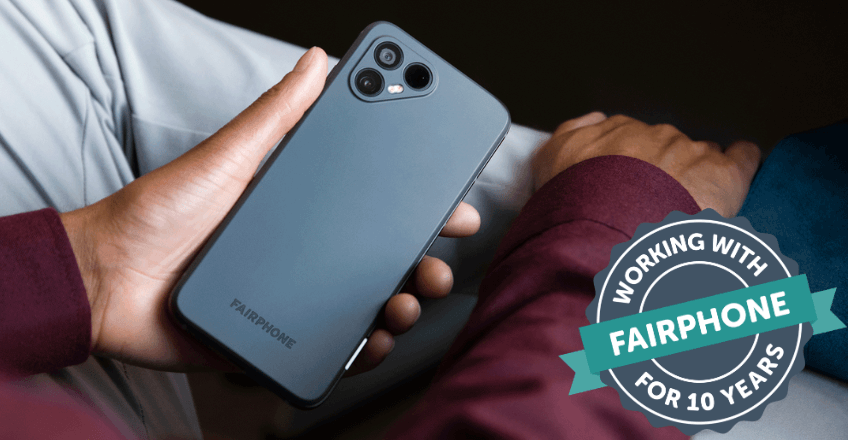 Fairphone is now officially Platinum rated and in the top 1% of Sustainable businesses worldwide following their 2023 EcoVadis rating. Here at
Your Co-op Business Solutions
, we are celebrating this milestone achievement as we recognise that our customers, like us, demand sustainability and Fairphone delivers industry-leading ethics and longevity without compromising performance. We proudly align with these values and qualities, which is why we offer businesses the world's most sustainable smartphones as the UK's only Co-operative telecoms provider.
What is the EcoVadis Certification?
EcoVadis is the world's most trusted provider of business sustainability ratings. To date, EcoVadis has reviewed and rated over 100,000 businesses in over 200 different industries, which is why global companies like Nestle, L'Oreal, Toyota and AXA rely on them to improve their sustainability. The detailed monitoring carried out by EcoVadis generates a report with a sustainability rating out of 100 and a medal certification. Each year there is a recertification cycle, meaning no rating and report should stand for longer than 12 months.
What does Fairphone's EcoVadis sustainability rating mean?
Fairphone scored 75/100 points after an extensive review of their operations, earning them the Platinum medal certification. This recognises Fairphone as being in the top 1% of over 100,000 companies assessed by EcoVadis, making them a front-runner in sustainability. The review focuses on 21 sustainability criteria that are grouped into four themes: Environment, Labour & Human Rights, Ethics and Sustainable Procurement – making it incredibly detailed and accurate. Despite the stringent metrics, which become harder to score highly for each year, Fairphone is the highest-rated smartphone provider worldwide.
However, the EcoVadis sustainability rating does not take into account a significant portion of the sustainable impact made by each Fairphone. Practices by Fairphone not included in their review include the living wage bonuses, e-waste neutrality or the fact that Fairphone uses Fairtrade Gold in their devices, an industry first that is still unique today.
Nonetheless, the Platinum certification allows Fairphone to reaffirm that they are successfully putting people and planet first whilst delivering high-performance electronics.
What can Fairphone do for my business?
The Fairphone 4 and 5 are both 5G Android smartphones designed to support CSR and sustainability in your business and be a daily driver. As Android Enterprise Recommended mobiles, your business can trust Fairphone to provide the best and most secure mobile experience possible. In fact, they're so capable and secure that Vodaphone Germany uses Fairphones as business devices at their HQ.
The Fairphone itself really is fair, it's made with recycled, responsibly sourced and even Fairtrade Gold with a totally repairable design, meaning you can open it up and swap a battery or screen with ease. It's the only smartphone with a 10/10 iFixit score for repairability. Not to mention it's assembled by workers paid with a living wage bonus and in fair factories with some of the very highest safety and working standards in the industry.
The Fairphones are sustainability statements in your pocket and a central part of your every day, which can certainly boost your CSR credentials. These
TCO-labelled
devices are lower carbon (at least 33% fewer CO2 emissions than average smartphones per year) and support 9/15 UN Sustainability Goals. A Fairphone sends an unmistakable message about your business's values to employees, customers and other businesses.
How long will a Fairphone last?
The Fairphone 4 and 5 each come with a standard 5-year warranty, an industry-leading promise of quality and longevity, plus the Fairphone 5 additionally has 8 years' worth of software support. In 2022, the average time a user kept their Fairphone (3 and 3+ models) was 5.5 years, a whole 3 years longer than the average smartphone. However, it's anticipated that this average time kept will grow in the future with the Fairphone 4 and 5's superior longevity.
What is the aim of Fairphone in the future?
Fairphone is committed to recertification as soon as possible to keep the coveted Platinum medal status. After working closely with EcoVadis, there is an even greater understanding of how Fairphone can improve its already industry-leading score and stay within the top 1% of sustainable businesses.
For Fairphone, better never stops when it comes to people and planet, which is why they produce the world's most sustainable smartphones.