Fairphone 4 - Sustainable. Ethical. Long Lasting.
Published date: November 2021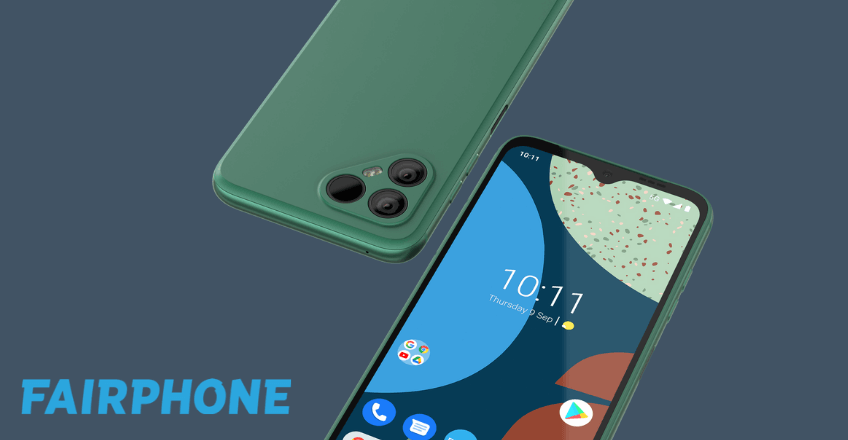 The world's most ethical mobile has just got better. Recently launched by Amsterdam based company, Fairphone, creators of the worlds most sustainable mobiles, Fairphone 4 has 5G speed, a 5-year warranty and is electronic waste neutral.
A phone's biggest environmental impact comes from making the thing in the first place. So, the longer you keep it, the more sustainable it becomes.
Fairphone 4 is built to last from 100% recycled plastics and responsibly sourced materials such as Fairtrade Gold and aluminium from ASI-certified suppliers. Its clever modular design allows you to repair and upgrade your phone when you need to and Fairphone promises long-term support and software updates so you can keep your phone for longer – reducing e-waste and emissions. Repairing and upgrading is easy - there's no need for a degree in electronic engineering.
Upgrades and Repairs
Fairphone says the battery will maintain at least 80% of its original capacity for more than 500 full charge cycles and a replacement or spare costs £25.95. Users can repair the phone themselves by replacing slot-in modules using a standard screwdriver. A replacement display will cost £69.95, the back £17.95 while other components such as cameras, ports and speakers cost between £12.95 and £69.95, all of which will be available until at least 2027.
Wired magazine rates the battery life and the 48MP rear camera and 25MP selfie camera function: "The battery life is decent, with 20W fast charging, performance is zippy so far and, flash off, the main and ultrawide lenses are both very usable."
While a review in The Guardian extols Fairphone's five-year warranty and modular design. "A five-year warranty and a pledge of six years of software support is far longer than any other Android manufacturer. And there's nothing else on the market that is designed to be taken apart and repaired at home with just a standard screwdriver."
Check out the

difference
| | | |
| --- | --- | --- |
| | Fairphone 4 | Fairphone 3+ |
| Dimensions | 162 x 75.5 x 10.5 mm | 158 x 71.8 x 9.9 mm |
| Weight | 225g | 189g |
| Screen | 6.3" IPS LCD | 5.65 IPS LCD |
| Main camera | Triple 48MP | Single 48 MP |
| Selfie camera | Single 25 MP | Single 16 MP |
| Memory | 128 GB | 64 GB |
| Headphone Jack | No | Yes |
| Colours | Grey, Green, Speckled Green | Black |
| Battery | 3905 mAh, Li-Ion, removable | 3040 mAh, Li-Ion, removable |
Changing the future is in your hands
Your Co-op Mobile is passionate about creating an ethical, sustainable future and are proud to be partners with Fairphone. We don't believe living a more sustainable lifestyle means giving up great tech innovation. Fairphone 4 gives consumers both.
"It's no secret: we're out to change the world," says Fairphone. "We care about human rights and worker well-being. We care about the climate and our planet's delicate ecosystem. We care about designing longer-lasting products that are easier to repair. We care about reducing waste and making the most of what we already have."
If you're looking to change your mobile, why not join us and change the world too. https://broadband.yourcoop.coop/mobile/fairphone/