6 ways phones can boost your health while isolating
Published date: May 2020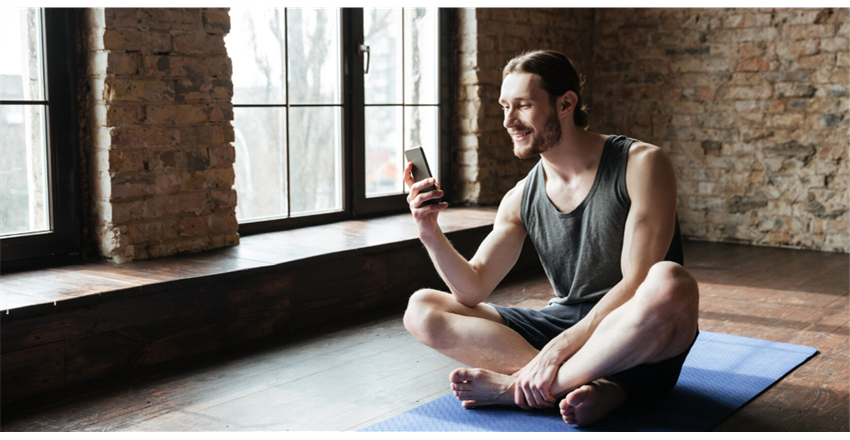 Here at the Phone Co-op we're doing all we can to help you in your day-to-day lives, keeping you connected and in touch with your loved ones.
It's essential to keep ourselves mentally and physically well during the lockdown, and one item that's helping us do this is our smartphone. Phones offer tools and apps to boost our health while we're in isolation, making the situation much more bearable and pleasant than it would be without them.
Here are 6 tips on how to use your phone to stay healthy from home.
1.
Download a fitness app

Keeping your body healthy and in shape can improve your mood, too, filling your brain with natural chemicals to keep you smiling.

There are lots of apps offering exercises and workouts you can do at home, and many of them are free.

Recommended apps:

•

Johnson and Johnson official 7-minute workout on

Android

and

iOS

– This free app offers 72 exercises, 22 workouts, and all customisable short workouts you can do at home.

•

Simply Yoga - Fitness Trainer on

Android

and

iOS

– Great for beginners or yogis who want to practice, with a more advanced full version you can upgrade to.

•

Sworkit on

Android

and

iOS

– Exercises range from a simple stretch routine to an intense, challenging workouts.

•

30 Day Abs Workout Challenge on

Android

and

iOS

– work out your abs from the comfort of your home.



2.
Stay in touch with video chat tools

Face-to-face video conversations are useful for people working from home, but they're also popular with people looking for a social connection while at home. Using video chat tools you can meet up in groups, play games, and even enjoy a wine or a beer together.

If you're using Wi-Fi, having fast, reliable broadband will help ensure that your video chats run smoothly, such as our Superfast and Superfast Plus packages.

Recommended apps:

•

Zoom

– Great for conference calls or "party" calls between large friends and family groups – just remember the 40-minute call limit on the free plan.

•

Skype

– Always popular, Skype's mobile app allows for up to 100 hours of calls per month, 4 hours per call.

•

Facebook Messenger

– Up to 8 people can chat in free video calls and also use some fun video chat features.

•

WhatsApp

– You can have up to 4 people per call using this secure and popular app.



3.
Eat well with a nutrition app

The food you usually eat may not be so readily available for the time being, so this is a great opportunity to try some new tasty recipes and dishes.

Your diet plays an important part in your health and wellbeing, so having a mobile app to help ensure that you're eating well while you're at home is a great idea.

Recommended apps:

•

MyFitnessPal

– Whatever you're looking to do with your diet, this free app can help you prepare delicious meals that are also good for you and your loved ones

•

Lifesum

– This app is reasonably priced and packed with diets and meal plans to suit you and your family's needs.

•

Platejoy

– You can get a free trial for this app, which is superb for healthy, tasty meal planning.



4.
Call someone!

A study in 2019

found that a quarter of mobile phone users make less than 5 calls a month. If that sounds like you, this is a good time to start again.

Connecting with people is one of the charity MIND's top tips for ways to look after your mental health while you're in isolation. Phone calls are spontaneous and can keep you in touch with friends and loved ones or reconnect with people you haven't spoken to for a while.



5.
Easy access to doctors and pharmacists

If you need to speak to someone about a health concern, you can talk with a GP or pharmacist online without needing to go to a doctor's surgery or a chemist.

Co-op Pharmacy can give you access to appointments and consultations with our pharmacists via our Live Doctor and Live Pharmacist services.



6.
Help keep your family safer

We're all using our mobile phones even more right now, and knowing that your family is safe and secure can give you peace of mind.

We offer phones by Doro

, which aim to make life simpler for the senior population by providing adapted smartphones designed to be easier to use.

Doro devices offer helpful features such as having extra loud and clear sound as well as a special assistance button. Pressing this automatically sends a message to emergency contacts to let them know that you might need help.



For your health
Your health has become especially important during the lockdown.
Whether you're looking for new ways to use your phone to stay safe, replenishing your medicine cabinet, or you need to speak to a doctor or pharmacist, we're here for you.