Your Fairphone 3 just got fairer with new Modular Earphones
Published date: May 2020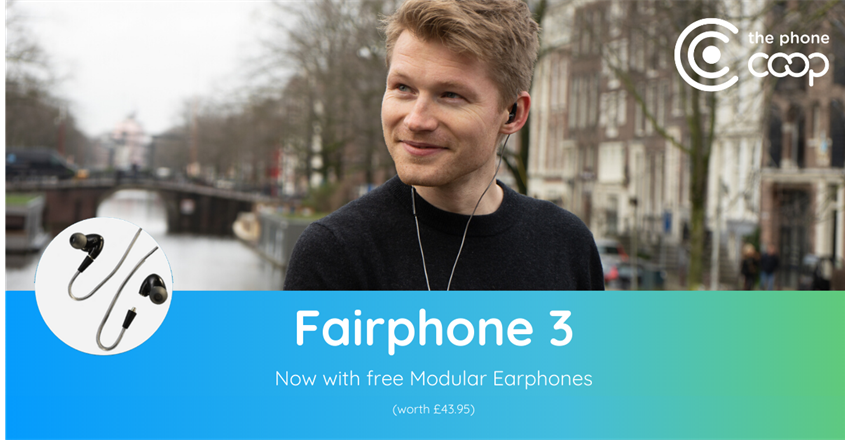 Fairphone are pioneers of fairer electronics, as manufacturers of the world's most ethical smartphone. The dutch startup continues to drive change to the electronics industry, launching new products that are made with people and planet in mind. As you probably don't know, when you buy the Fairphone 3 you will only find the phone (and the mini screwdriver) in the box, no cables, charger or accessories. There's no mistake there, they do that on purpose - to reduce on e-waste and encourage you to use what you already own.
Fairphone has launched new earphones that have a modular design, same as the smartphone. That means the cable and the earbuds can be replaced separately if anything happens. Through May, you can claim a free pair of modular earphones (worth £43.95) when you purchase your Fairphone 3.
These modular headphones with dual dynamic drivers deliver a high-quality, balanced sound, while the memory foam earbuds provide increased comfort and noise isolation. You can easily skip tracks, change volume or answer phone calls using the built-in remote and microphone. Besides, you will be able to enjoy these modular earphones in other devices, as they're compatible with iOS and Android.
Repairing your electronics and recycling can help to reduce our impact in the environment as well as saving money. Holding onto your electronic devices for as long as possible before recycling, as extending the life of products and re-using components brings an even larger economic benefit. iFixit gives Fairphone 3 a perfect 10 for repairability, as the entire device has been designed so that its components are accessible and repairable.
Meet the latest model - Fairphone 4 now.