The Fairphone 4, a truly green Christmas gift with £80 cashback
Published date: December 2022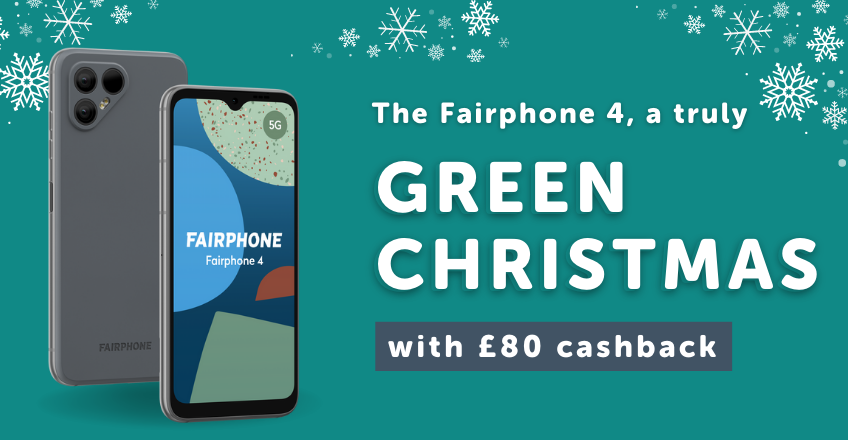 Your Co-op Mobile has proudly provided a simple solution for customers to cut their carbon with the world's most ethical mobile phone. Though it is arguably the world's most ethical gift you can give this year, to provide someone with a truly green Christmas.
Our belief as The Midcounties Co-operative is to help create a better, fairer, and more sustainable world, which is exactly why we strive to deliver products that contribute to carbon reduction for each user. Your Co-op's climate-positive Broadband and Mobile are partnered with climate impact partners, Ecologi and Fairphone to ensure the most ethical products are being offered, especially the UK's most green phone bundle.

£80 cashback on a Fairphone 4 this Christmas
Save money on a brand new Fairphone 4 with £80 cashback when you purchase from Your Co-op Mobile. We provide handsets only or with a fully loaded climate-positive SIM with unlimited calls and texts with your choice of data. Offer begins on the 9th of December and until the 26th of December.

Your Co-op is also giving back to Broadband and Mobile customers who switch during the month of December. Broadband customers will receive £70 bill credit and Mobile customers £80 cashback, making a potential saving of £150 this Christmas.

Not only this, but Ecologi will plant a tree thanks to your purchase, which will contribute to future carbon reduction from the atmosphere. Altogether, we think that makes for a pretty fair and green Christmas that can be enjoyed knowing the world's most ethical mobile is at its lowest-ever price.
What makes the Fairphone 4 a green phone?
The Fairphone 4 is made with only 100% recycled plastic, Fairtrade gold, and aluminium from ASI-certified suppliers, along with other responsibly sourced materials through an ethical supply chain. The sophisticated modular design allows you to make quick and easy repairs or upgrades of parts, so you can keep your Fairphone for longer. Keeping your Fairphone 4 is not only made possible with a 5-year warranty, water resistance and committed long-term support for software, but also contributes to limiting e-waste around the world and is a long-term carbon reduction plan for users.

The mobile industry has a costly trend of replacing a handset every 2.5 years, or much sooner in many cases, with new models coming out annually by large tech companies. However, Fairphone breaks the mould by offering a phone that can beat the unsustainable itch to switch prematurely. Current users of Fairphone average a 5.5 lifetime of their handset, which reduces the annual carbon footprint of your mobile by 31% and can be 44% if kept for 7 years.
Add that to a bundle of great data, unlimited calls and texts for just £30 a month. We think that's a pretty ethical Christmas gift. Though to make this a truly green mobile, we have not stopped there for Your Co-op mobile or broadband with help from Ecologi.
Giving back through our carbon reduction partners, Ecologi
The partnership with Ecologi is what allows Your Co-op to offer carbon-cutting products. With each sale, we help to fund carbon reduction projects all over the world that are certified to the highest gold standard.

Every month Your Co-op is funding projects to reduce 10kg of our climate-positive mobile and broadband customers carbon footprint. That continues for as long as a customer uses our services, so a typical 24-month contract will see us reduce 240kg of CO2e between mobile and broadband.
As part of the service from Ecologi, a tree will also be planted for every customer which will contribute to decarbonisation in the future, once the trees are matured (10-20 years). Your Co-op has a forest of its own, and to date, has planted over 38,000 trees and reached over 1,400 tonnes of carbon reduction.