Meet Chames Zaimeche, a new generation of co-operators
Published date: June 2017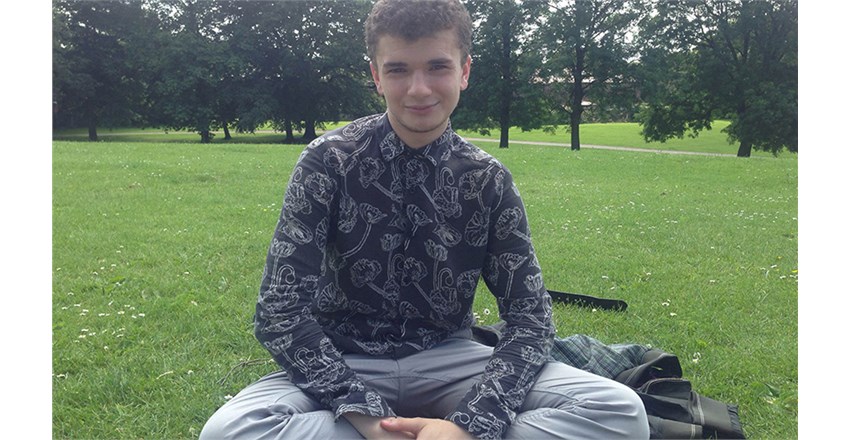 By Pat Moral
Chames Zaimeche recently joined The Phone Co-op as a project consultant. He has a degree in Political Science and he is one of the founders and former member of the Birmingham Students Housing Co-operative.
Tell us a bit about your life before joining The Phone Co-op.
I was born in Manchester, home of both the Co-operative movement and aspects of the labour movement both of which I consider to be large influences on my thinking and personal ethics. In terms of my background immediately before joining The Phone Co-op, I was working in customer and support services. The role whilst unique in its diversity of employees (we had over 85 spoken languages in one office alone) and its full-hearted embrace of technology, it lacked ethical and social values of the co-operative movement. Beyond this I was and still am, active politically, campaigning for a remain vote in EU referendum and the Labour party more generally. Similarly as a recent graduate in Politics at The University of Birmingham, I was whilst a student (and now once again) an active member of the Co-operative Movement; being a member of Co-ops West Midlands management committee, a director of The Birmingham Student Housing Co-operative and similarly engaging in a number of community and activist based projects. Related to this I have spoken at a number of Co-operative conferences such as those held by CCH, CDS, The Phone Co-op AGM and Co-operative East and West Midlands, for both The Birmingham Student Housing Co-operative and Students for Cooperation.
You are one of the founders and former member of the Birmingham Student Housing Co-operative. How did you get involved in setting the first student housing co-op in the UK?
The process itself was somewhat unconventional; essentially some of the friends I made through student politics were sick of the low quality high cost housing in Selly Oak (Birmingham's student town), and wanted to challenge not only this, but also the casual, disposable attitude students therefore took towards both their living and the community in which they inhabited. As such, open meetings were arranged, which I attended. Before long the Co-operative model was decided as the one to pursue: due to its reliance on democracy, self-empowerment, community engagement and the ability to create a long-term project that would challenge not only the private landlord based student-housing economy but also the idea of housing as disposable and consumer rather than community led. Through this, we created a business model, a foundation document to ensure the student-led nature of the project and a long-term strategy to develop the project on both a local and national level. As the Co-operative is still going strong three years since its inception, it's fair to say that thus far these processes have proven to be a fairly solid foundation for the project.
What was your inspiration? And why did you choose the co-operative model?
The answer to this is best divided into two parts; my personal inspiration and that of those who collectively engaged in the project (as it's fair to say it would have gone absolutely nowhere without a collective effort). On a personal level the inspirations there were a few key inspirations. First, the financial side, I and many other students from lower income or financially unstable backgrounds, were largely priced out of the local market, offering a choice between debt or the dampest end of the housing market- a state of affairs that struck me as both inequitable and unnecessary. Similarly, the fact that students were on mass paying out large sums of money for sub-standard housing struck me as a reality that could not only be organised around politically but could also allow for a financial strategy that helped strengthen rather than remove from the local economy and community. On a broader level and as a collective, the inspiration came from a precedent - such as NASCO and the Berkley student housing co-operatives, both of which demonstrated the potential and value of a co-operative option. Other inspirations included a desire for autonomy and the ability to improve our living conditions, the need for a political space that was both open and democratic, a desire to decentivise exploitative landlords through creating a market alternative, and developing a model where learning new skills and taking on responsibility were actively encouraged rather than handed over to estate agents and landlords at a cost. Similarly, there was a desire to create a housing option open to marginalised groups within academia- the poor, ethnic minorities, those with accessibility needs, and LGTBQ people. The democratic and inclusive nature of co-operative decision making seemed to create a unique space for us to pursue these aims and as such was desirable to us as a group of left-wing students with a desire for social justice. In my opinion, the diversity of membership and people's attempts to facilitate different identities has been theBSHC's biggest success.
What would you say to a group of students that want to start their own housing co-op?
First of all to do it. Second, to ask those doing it already for advise, - be it a UK based student coop such as Edinburgh's or Birmingham's, or an international one of which there are many. Third, decide on why you are starting a Co-operative and build these motivations into the co-operative itself. And finally accept that there will be difficulties, but try to deal with these collectively rather than as individuals.
What did you do after university? Are you still involved with the Birmingham Students Housing Co-operative?
So this was partially answered in my earlier "background question" but the short answer is I worked non-stop for a private company and then was lucky enough to find employment within The Phone Co-op. Working as a Project Consultant, my work entails essentially project managing various unique and interesting initiatives with an aim to improve the day to day operations of The Phone Co-op whilst also supporting the Co-operative in growing and realising its full potential through various different tasks and projects. As for engagement with The Birmingham Student Housing Co-operative, we built into our constitution that you couldn't continue membership without living in the co-operative- as such I am no longer a member. However, I have returned once this year to deliver training as to the history and strategy of the Co-operative and I am still in touch with many of its members. As such I guess you could say my involvement now is simply that of a retiree- still socially engaged with it (I went to a party there last weekend for example) but no longer active in decision making. This is a good thing as we didn't want the Co-operative to become a frat house, therefore old members moving along with their lives yet maintaining an engagement with the Co-operative movement is key to the projects success in my eyes.
Are you member of any other co-operatives?
I am a member of the Co-operative party and the labour party- which may or may not be classed as a co-operative depending on your perspective.
How does the future of co-operatives in the UK looks like to you?

This is a huge question the answer to which you could (and indeed I did) write an essay on. I think there will always be a place for Co-operatives within the UK, however in my opinion the unique features of Co-operative enterprise: democracy, self-help and open membership to name but a few, allow for an economic model that could dramatically improve the lives and working conditions of millions throughout the UK. However whether this possibility is realised depends primarily on two interrelated things: First the co-operative movement needs to broaden its membership and appeal to increasingly socially conscious youth, a demographic that I believe is underrepresented within Co-operatives in the UK currently. With this, new ideas and new approaches can help bring a degree of vibrancy and cultural legitimacy that I worry the Co-operative movement risks losing otherwise. Secondary to this is the need for Co-operatives to emphasise their difference proudly and as a cornerstone for their business operations. This is due to the importance of democracy, collectivism and sustainability within our economy, all of which can be considered key areas of weakness within private enterprise and as such areas to be both celebrated and utilised within the Co-operative movement so as to allow for its vision to become a positive ubiquity rather than simply quaint. Too often have Co-operatives simply emulated the corporate model only to collapse under its contradictions. In summary I believe that if Co-operatives in the UK embrace that which sets them apart both historically and structurally from their private counterparts, alongside a willingness to grasp new technologies and ideas, then the future is not only secured, but a bright one indeed. If however Co-operatives fade into obscurity through complacency, then I believe that whilst Britain will suffer for this, ultimately the Co-operative movement will reappear in a reinvigorated form once again- as the principles on which Co-operatives were and are built, will always go beyond the businesses which bear their name.