Making food fair by cultivating community
Published date: July 2017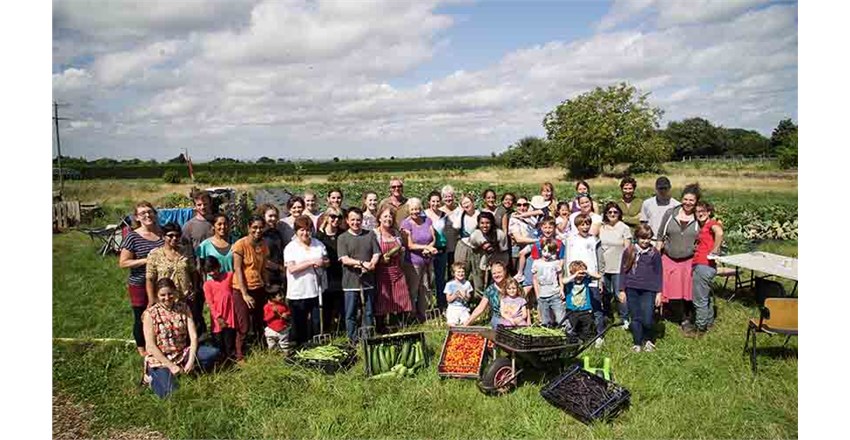 By Pat Moral
Sutton Community Farm is a not-for-profit Community Benefit Society created in 2010. They operate from a seven acre smallholding in South London. They employ a small team that is supported by a large network of volunteers.
The farm describes itself as an innovative community-owned organisation, which aims to have a strong social and environmental impact while balancing a viable financial model. Their community is involved at every level of the organisation and have a say in the development of our enterprise. Since their initial share offer in 2015/16, Sutton Community Farm is owned by 406 Members.
Sutton Community Farm helps people to access and participate in a healthy, low-impact, local food system. Their VegBox scheme links with other local Organic producers as well as providing a route to market for its own produce. As they grow food, the farm will invite people to join in: from teenagers to those in their seventies. As well as their regular cohort of volunteers, it has visits from school groups, special needs colleges, probation services and businesses from across London. Its educational work is centred on food production, cooking and healthy life styles. The farm also engages with people off the farm, taking our activities into schools and the local community.
Sutton Community Farm grows vegetables under organic principles and last year it harvested 15 tonnes of vegetables which makes it London's most productive community food growing project. The farm is currently delivering 250 veg boxes weekly to its customers across South London.
Sutton Community Farm launched a share offer early this year that had raised £97,462 of their £68,575 target as of 14 of July 2017. The Phone Co-op has invested £6,000 from our Co-operative and Social Development Fund.
The intention is to build a barn of twice the current usable space, using a standard design. Building will start in the latter half of 2017 and the expected completion date is early 2018.
To build a barn the farm needs three things: an extension to their current lease, the go-ahead from landlord and planning permission. As the land is owned by Surrey County Council, the lease and landlord go-ahead comes from them, and the planning permission from Sutton Council.
Further information about Sutton Community Farm' share offer can be found at
Watch the Sutton Community Farm What we do video.