Hosted audio conferencing keeps art alive for older residents' group.
Published date: August 2020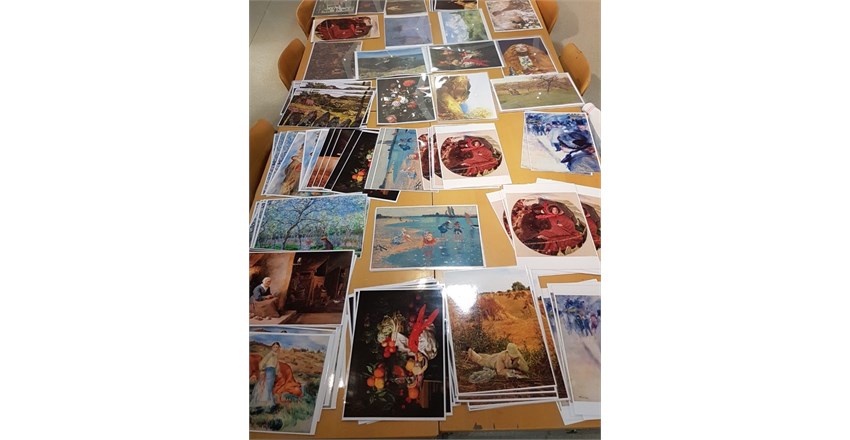 Art appreciation is a visual pastime. But a Cambridge museum found the humble telephone the ideal way to run a valuable group project for elders during lockdown.

Older people have been one of the main groups affected by the Covid-19 lockdown. They were often shielding, and less likely than other age groups to use digital devices to keep in touch.
Lockdown dealt them a double whammy. They could no longer socialise in person and many, without the tech set up, were unable to join friends or family in online Zoom or Skype meet-ups.
This presented a problem for the University of Cambridge Museums. They run a programme called 'Dance and Time with the Museum' in partnership with the Cambridge City Council Sheltered Housing Schemes run by the Independent Living Service (ILS).
Art appreciation by phone
The programme, which has been running since 2016, sees approximately 80 elderly residents meeting alternately at the Fitzwilliam Museum and in their own community spaces. Guided by dance artist Filipa Pereira-Stubbs, they go through gentle movement into slow looking and discussing different artworks from the museum.
It's an enjoyable and educational shared experience. The residents can connect with other people and discuss their ideas and thoughts about the work.
With in-person meetings no longer possible, the organisers looked for ways to keep the programme going. They soon realised that most residents did not have access to digital technology, but they all did have telephones.
After discussing with the residents, they linked up with The Phone Co-op to offer a unique hosted voice conferencing solution – a managed 40-minute group telephone call that replicates some of the experience of their face-to-face sessions. More than half of the original cohort of residents agreed to join in.
How the sessions work
At the start of the lockdown project, the residents were sent a pack of 24 paintings from the Fitzwilliam collection, all selected with a view to provoking curiosity and lively conversation. Two images are chosen for each call.
The team then set up small groups of four or five residents, who all know each other, and devised a schedule indicating the dates and times each group would be participating. There are two people on the call from the museum – one to facilitate and one to write a diary recording the experience – along with a team member from ILS.
A Phone Co-op host calls the ILS and museum team first, then connects the participating residents into the call one by one, ensuring they're ready and comfortable to proceed. The host then stays in the background to ensure stable connections and maintain call quality.
The facilitator introduces everyone on the call and asks how everyone is getting on, before guiding them into the session, exploring the artwork and inviting the participants to share their thoughts and feelings, sparking different ideas and experiences within the group.
The importance of shared experiences
"It's important to allow the time and space for everyone to say hello to each other," says Alison Ayres, inclusion project co-ordinator at the museum. "Everyone enjoys hearing their friends' voices again and they all say how much they miss seeing each other and going out on trips together.
"As the lockdown wore on, it became more and more important for the residents to share how they were feeling – a genuine impression of feeling trapped, fed-up and bored which they could all identify with. But they are always quick to move into the session and the artwork."
Over the weeks of lockdown the participants have explored the landscapes of North Wales, picnicked in the grass of Monet's Springtime and enjoyed a French holiday in Alfred Sisley's Rue a Louveciennes.
"They genuinely value connecting with each other and the shared experience of looking at and discussing art," added Alison.
"They've told us how much they enjoy not only the artworks themselves but also the distraction from real life and the social interaction with their friends."
Five minutes before the end of the session the Phone Co-op host gives everyone a gentle reminder. This allows the participants to share their final thoughts and say goodbye, and the facilitators to round off the session in an appropriate way.
The telephone sessions are different from face-to-face meetings but, Alison says, equally valuable for all concerned.
"This has been an incredible experience from my personal perspective," she says. "As I listen and diarise their conversation, it's like tuning into to a beautiful radio programme in which a group of friends are sitting together discussing their thoughts and feelings. It all feels very natural and very connected.
"We're looking forward to meeting up together in person, of course, but now we have adapted to this alternative way of connecting we can see there is real merit and potential to reach out to other groups who find accessing the museum difficult."
The Phone Co-op is the only UK telecoms company offering hosted audio conferencing to community groups, charities and social enterprises. For more information, call us on
02035599000
or book a
FREE demo
with one of our hosts by filling out
a form
.