Doro - Easy to use mobile phones for your older family members
Published date: November 2019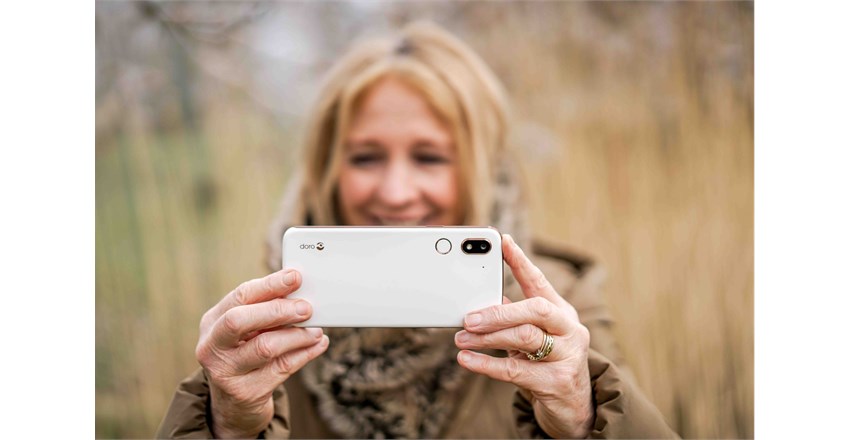 Senior people and people with physical or mental disabilities are sometimes unable to access technology, and particularly mobile phones because the devices lack the necessary accessibility features. Staying in touch with your family and friends doesn't have to be complicated. Easy-to-use phones are designed with the user in mind, incorporating extra clear sound, large keys and a high visual contrast.
By 2050, it is projected that one in four people in the UK will be aged 65 years and over, and according to Worldbank, about 15% of the world's population experience some form of disability. With a growing older population, mobile service providers and manufacturers have the concern to design and create devices that are easy to use for everyone. The good news is that some companies are leading the effort of offering accessible technology, implementing on mobile phones screen readers for those users with low vision, blind or illiterate; visual or vibrating alerts, hearing aid compatibility devices accessible for the deaf and hard of hearing; or voice recognition and auto text for the users with physical disabilities.
The industry is also trying to overcome the affordability barrier, especially for smart phone solutions. It's the case of Doro, a Scandinavian company that is constantly doing research to keep up with a growing variety of needs and demands, providing mobile phones that make daily life simpler and safer for the senior population. Doro is a brand that provides adapted smartphones models that also aim to improve the senior's confidence when it comes to technology.
Doro phones are simple, but cover your different needs and preferences
Doro helps you to keep in touch, stay active and grow in all areas of life. Doro has the smartphone that think like you and we offer you four different devices that will be able to fulfil your needs.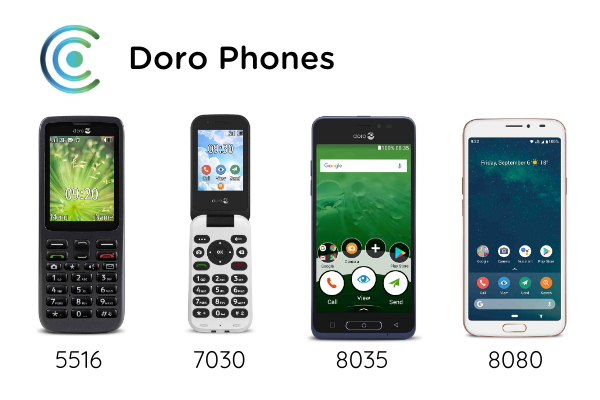 Doro 5516 - Classic mobile phone with camera
This is the perfect device when you are looking for an easy-to-use mobile phone with great sound and practical features that lets you make calls, send texts messages, take photos and even browse the internet. Doro 5516 has a compact ergonomic design, easy to hold in your hand without being fiddly to use.
-Large Display. It has a large 2.4" display, perfect for those who want a practical phone with a classic and compact design for convenient everyday use.
-Extra loud and clear sound.
-Easy to use camera. Capture special moments with your friends and family thanks to the 2MP camera with flash.
-Assistance button for extra safety. The SOS button allows easy access to call your predefined contact numbers.
-3G connectivity for web browsing and emails on the go
-This phone is delivered with HAC (Hearing Aid Compatible), email and internet access, Bluetooth, speakerphone, predictive text, adjustable font sizes, talking number keys, torch and a visual ring indicator.
Doro 7030 – Elegant flip phone with Whatsapp and Facebook
In addition to easy calling and messaging, Doro 7030 stylish feature phone enables you to use Whatsapp and Facebook over WiFi and high-speed 4G LTE networks. The large 2.8" screen and the widely separated, high contrast keys make everything you see and do all very easy, including taking great photos and videos with the 3MP camera.
-Enjoy Whatsapp and Facebook
-Hear more thanks to loud and clear sound
-Feel more secure with assistance button. Pressing this automatically sends a message to your emergency contacts to let them know you might need help.
-4G ready for ultra fast network speeds
-2.8 WVGA Display
-512MB Storage
Doro 8035 - A smartphone that's exceptionally user friendly
Doro 8035 is simply easy to use, featuring large icons, clear sound and an assistance button. This smartphone is perfect whether you are an experienced smartphone user or a new one. You can choose between a traditional Android interface and Doro's own intuitive, easily navigated interface.
- Large Display. It has a large 5-inch HD display that makes everything look clear and easy to read.
-Choice of Android or easy to use interface. Android Nougat 7.1.2. Device approved for 4G LTE networks.
-Assistance button for extra safety. The SOS button allows easy access to call your predefined contact numbers. GPS functionality, a great way to keep family and friends in your network informed of your location. The assistance button will provide your GPS location in the case of an emergency.
-Louder and clearer calls. The audio boost function will allow you to increase the in-call volume for up 20% louder sound.
Control your phone with your voice using Google Assistant
-Get support from your relatives, no matter where you or they are
-5MP+2MP camera with LED flash.
-16GB internal storage
-Email and internet access, a torch, step-by-step tutorial and Bluetooth.
Doro 8080 – The simply brilliant smartphone featuring conversational navigation
The sophisticated Doro 8080 offers a uniquely effortless user experience. Fully redesigned from the inside out, it not only looks great but also incorporates conversational navigation with Eva and Google Assistant, an unbeatable team for simplifying everything that the user wants to do. Eva is Doro's whole new software designed to show greater understanding for the user and is especially helpful for anyone who is new to Android.
The Doro 8080 also incorporates technology for delivering a better audio and visual experience. There's a fingerprint reader for greater security, and a subtly designed assistance button with integrated Doro services that puts help within easy reach.
-Easier to use with conversational navigation and Google Assistant
-Beautifully design for optimal sound, seeing and touch
-Alarm button and remote support via MyDoro.
-Large Display. It has a large 5.7" display, like other smartphones such as the Galaxy A7.
-A very good camera. 16MP primary camera and 5MP secondary camera with LED flash.
-32GB of internal storage (there's a microSD slot for more)
Looking for a SIM only plan or monthly phone deal? Discover our mobile plans now.