Conversity and The Phone Co-op won the Online Innovation of the Year by Retail System Awards 2020
Published date: October 2020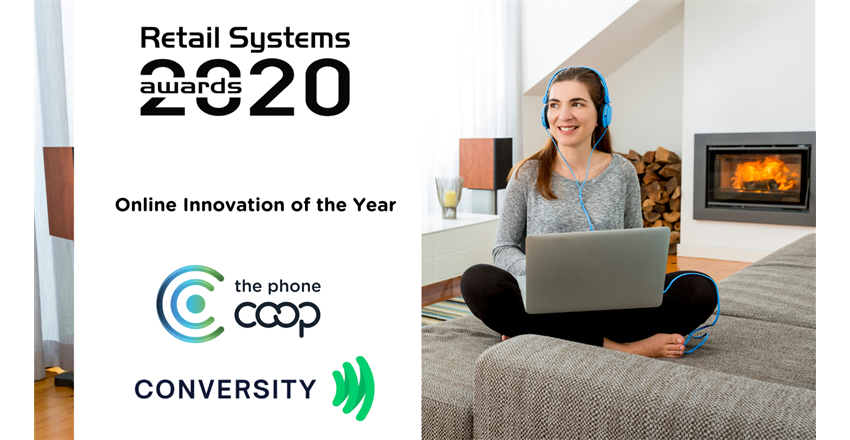 We're pleased to announce that our partner Conversity has won the 'Online Innovation of the Year' by the Retail System Awards for their work with The Phone Co-op. The Conversity solution has had a great impact on our ability to communicate closely with our customers, providing a useful tool that helps our customers, making their buying decisions much easier and relevant.
The Retail System Awards brought together the industry's best and brightest for the biggest evening in the retail technology calendar. Major brands competed for the 'Online Innovation of the Year' award, such as Tropicana Wholesale & Red Technology, Jaguar Land Rover & Rockar Digital, or Matalan & Taggstar.
Research tells us many consumers lack the knowledge to find a fair deal to meet their telecoms and connectivity needs. The Conversity solution has enabled improvement of the customer experience with a simple to use tool, providing personalized options for mobile and broadband.
Jacci Marcus, Head of Digital Customer Experience for The Phone Co-op (part of Midcounties Co-operative) commented, "Thanks to the Conversity tool, we have greater insights into our customers' behaviour, which has given us an edge when it comes to updating our offers or maximising cross-sell opportunities. It's now integral to the way we work, and Conversity has ticked all the boxes in this respect.
"Most importantly, however, the solution has led to an easier buying journey for members and customers.This successful project was delivered in large part due to the professionalism and expertise displayed by the Conversity team. We're looking forward to continuing to break new ground with this technology in the future."
The Phone Co-op is the only UK telecoms co-operative and our aim is to build a long, sustainable relationship with our customers. Sarah Cameron, Director of Customer Experience at Conversity stated that "The Phone Co-op are real innovators in the Telco market with a strong focus on meeting customer needs and providing an exceptional experience. Working in partnership and being shortlisted for this award demonstrates the positive impact that can be achieved".
At the Phone Co-op we're passionate about fairness and we try to understand each step our customers face when buying our products, the Conversity tool has transformed the way we approach our customers, making these decisions much easier. By just answering some simple questions, it recommends the ideal product to suit your needs; from which broadband package with our Fair Price Promise to the ethical Fairphone or easy-to-use, assist phones - Doro and Emporia mobiles.