A phone for the conscious consumer
Published date: March 2021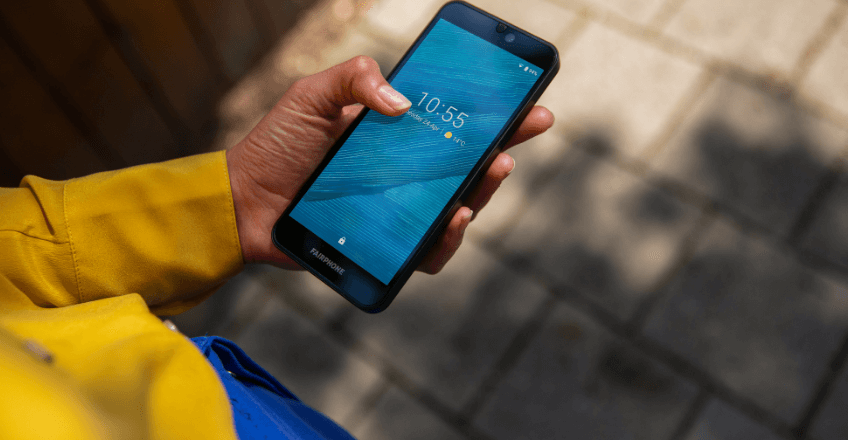 Why choosing a sustainable phone matters
Conscious consumerism is becoming a staple in the way that we buy. Gone are the days where we gravitated towards products and services because they were cheap. Instead, we want to invest in long-lasting brands that we can trust are making a positive impact on the planet and people.
And that goes for every part of our lifestyle- even our electronic gadgets. You have landed on this blog because you are interested in the "fair" component of choosing a phone that is designed with sustainability, purpose and ethics in mind. Fairtrade Fortnight is a perfect time to discover more about how you can swap products for those that do well and do good, starting with your choice of smartphone.
The very point of a mobile phone is to provide a seamless and robust connection. Fairphone breaks from the "standard" smartphone designs available on the market with flashy screens, futuristic cameras and glass designs. Instead, the focus is on creating phones that have reduced environmental impact, using conflict-free, recyclable and Fairtrade materials.
The Environmental Impact of Electronics Repair
It takes vast amounts of the earth's precious resources to make electronic items, but few of those items last more than a few years. So investing in a phone that can be repaired in a way that leaves a positive impact on the planet is also an essential part of living a sustainable and eco-friendly lifestyle.
Fairphone devices are modular, meaning separate parts of the phone can be fixed so you don't throw it away when the battery becomes unusable or a screen breaks. This helps to extend the life of the phone, reducing e-waste. As well, the phone's battery can be replaced when it starts to falter, so the device can keep going for longer; Fairphone 3 has a longer projected lifespan than other phones saving 30 per cent of CO2e emissions compared to other devices.
Why is CO2e important when considering gadgets?
People all across the UK are now starting to consider how they can step into a low-carbon lifestyle, and choosing the right type of device can help lead them on the right path. Using your phone each day has a much bigger impact on the environment than just making it. There's a lot of energy needed to run the data centres and infrastructure to make video calls, post selfies, and stream TV.
Did you know?
A one minute mobile-to-mobile call produces 57g of CO2e

Sending a text message (SMS) produces 0.014g of CO2e
Fairphone have ensured that you can easily swap out less carbon-intensive modules like the battery, the camera, and the display, which each account for only 5-7% of the footprint, to help keep your core module going longer.
Leading the way
Made from Fairtrade gold, recycled plastics and conflict-free minerals, the Fairphone comes with human rights assurances — such as a living wage for workers — and a modular build to make repairs and recycling easier. Fairtrade Gold is also the world's first independent ethical certification system for gold. The Fairtrade Gold Standards include strict requirements on working conditions, health and safety, handling chemicals, women's rights, child labour, and protecting the environment, making Fairphone an essential part of your decision-making process during Fairtrade Fortnight.
Interested in learning more? Why not sign up for a free chance to win yourself the Fairphone 3+ and learn more about the sustainable story behind that powers connectivity when choosing The Phone Coop.