Upstairs, downstairs: how Wi-Fi Gold can cure the Wi-Fi divide
Published date: October 2019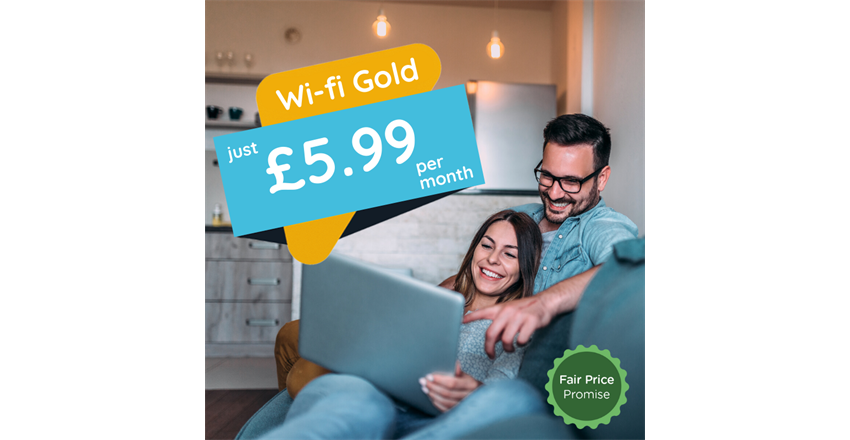 It's a familiar scenario in households up and down the land: "What's wrong with the Wi-Fi?"
Mum and Dad streaming a movie downstairs can't see any problem, but the teenagers playing FIFA online upstairs have just lost a match because the signal has gone down.
Wi-Fi is an integral part of most families' lives. It's as important to us now as a good TV signal used to be 20 years ago. Phones, TV, computers, laptops, smart speakers like Alexa and Google Home… it's hard to imagine life without them.
We use Wi-Fi in almost every room. But a recent report revealed that half of us are put off from buying or living in a home if it has poor Wi-Fi distribution, with 12% of families having arguments over substandard connectivity around the house.
It's not just family life that suffers. There has been a 74% increase in the number of people working from home in the last ten years, either in an employed or self-employed capacity. So a good home Wi-Fi connection is essential for business, too.
The drop-out zone
With today's superfast broadband speeds, homes in most areas of the country can, in theory, access enough bandwidth to connect several devices to the internet at the same time.
But however good your broadband speed is when it comes into the house, there are usually 'dead spots' in rooms that are further away from the Wi-Fi router. So chances are someone will experience the dreaded Wi-Fi drop-out.
One answer to the problem is to connect to your mobile data network, either directly or via mobile hotspot. With UK mobile users already averaging 2.5G of data usage a month, that could get very expensive.
Luckily, technology – and The Phone Co-op – has the answer: Wi-Fi Gold - Wi-Fi Everywhere, available from just £5.50 per month.
Wi-Fi Everywhere works with your existing router and not only improves your Wi-Fi signal by spreading it through your home, but also improves your speeds too.
Strategically placed, a set of two Wi-Fi Everywhere units will cover up to 4000 square feet, making them ideal for a medium sized house.
How does it work?
Wi-Fi Everywhere creates a linked network to provide seamless Wi-Fi coverage throughout the home.
Whichever room you're in, your device will automatically connect to the Wi-Fi Everywhere unit with the strongest signal.
If that unit drops out, you don't need to re-boot the Wi-Fi router. Your device will automatically connect to the next available unit and keep you online. And you can go from room to room without losing any signal strength.
Wi-Fi Everywhere isn't like the traditional Wi-Fi boosters you may have bought before. Wi-Fi Everywhere communicates with multiple wireless devices at the same time and offers Beamforming technology, which directs radio signals at your devices for faster, stronger and infinitely more reliable wireless communication.
It's Wi-Fi without compromise. You'll wonder how you ever managed without it.