Remote working - What broadband speed do I need for my home?
Published date: August 2020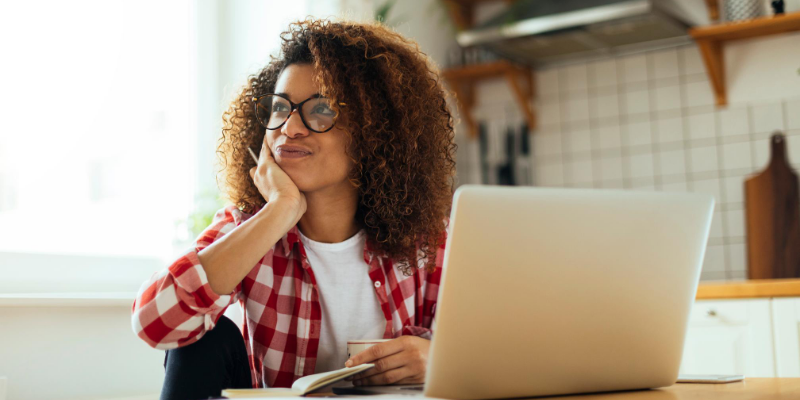 Telecommute was once a rarity, now a necessity
According to the
ONS
, for the 12-month period from January to December 2019, of the 32.6 million people in employment, around 1.7 million people reported working mainly from home. The coronavirus pandemic has forced a worldwide remote working experiment, transforming our homes into a working space, away from distractions (if that's possible).
Flexibility, accessibility, productivity, awareness of the negative impact on the environment of the daily commute… There are several reasons why one would want to work from home at least one or a few days a week. But the current circumstances have made this not a matter of choice, the COVID-19 made teleworking mandatory. We had no choice but to adapt to the situation of lockdown and working from home. Society was technologically prepared for remote working, however, a change of habit was lacking to adopt digital ways of working. And people have stopped doubting the advantages derived from the uses of the Internet at work, in education, in the community, and in personal life. We are embracing digital technologies.
The office will be where we have a terminal and a connection. Space will be the least of it. Thanks to telecommunications, physical space matters less and less. And productivity does not have to be damaged, but rather enhanced.
As restrictions are lifted, the question on everyone's mind is whether this way of working will become "the new normal".
The International Labor Organisation
estimates that 27% of workers in high-income countries could telecommute from home. This does not necessarily mean that they will continue working remotely.
What speeds do I need to work from home?
If you've recently found yourself working from home more often or learning remotely, there are many things you may want to consider to ensure that your new workspace has the internet connectivity and the speeds you need to work effectively. Remote working is a combination of video calls, sending and receiving emails, sending and downloading files, streaming, etc., so you need to make sure that your connection is fast enough for your needs.
The right minimum speed will depend on how the connection will be used:
Email and web browsing
These activities are considered light weight. Unless you are receiving large files in your emails, a standard Broadband package would be more than capable of handling web browsing and email.
The majority of businesses across the UK have already upgraded to cloud-based telephony solutions, such as VoIP. This solution has several benefits, but those that particularly apply to companies with home workers include free internal calls, remote working capabilities - provided their mobile device is configured to access the office network, or conference calling as VoIP allows for hassle-free virtual meetings via conference calls.
If you use
Skype
or other VoIP tools for voice calls, that's great news as they don't require a lot of bandwidth, so you don't need a Superfast connection.
But video calls are different and also high-quality voice calls are the norm today, and consistent quality is more demanding. The recommended download and upload speed for Skype is 300 kbps and 100 kbps. But if you are in a video conference with seven people or more, you would need 8Mbps for downloading and 512 kbps for uploading.
Zoom
quotes a minimum speed of 600Kbps, and a recommended speed of 1.5Mb.
Fibre Broadband is far better suited for video conferencing as this technology can provide better connectivity and speed. Poor quality calls risk limiting productivity and giving an unprofessional image to clients.
File downloads and uploads
Broadband upload speeds are generally much slower than download speeds. The reason for this is that we usually spend more time downloading than uploading, and downloading is given priority by internet service providers (ISPs). Superfast Plus provides upload speeds of 20Mbps - the best for file transfers and video calls.
Unlimited ADSL broadband or Fibre broadband?
ADSL typically only offers a maximum speed of up to 8Mpbs. While this is sufficient for sending and receiving emails, it will struggle to support more advanced tasks such as video calls.
On the other hand, Fibre-optic broadband is primarily available in two forms:
FTTC (Fibre to the Cabinet), which utilises fibre-optic cables up to the cabinet on your street, then copper wires from here to your home/premises, with up to 80 Mbps.
FTTP (Fibre to the Premises), which delivers a full-fibre internet connection, directly to your property with maximum speeds of up to 330Mbps.
For employees looking for the best broadband package for remote working, we would always recommend opting for a fibre connection where possible.
Do I need fibre optic broadband for remote working?
If you are the sole user of your home, you are unlikely to require a large amount of bandwidth.
As it becomes increasingly common for people to work from home, you need a stable, fast broadband connection. If your work requires downloading or uploading large pieces of data, such as video, audio, or you making different video calls each day, Superfast Broadband is the best product for you.
Superfast broadband is worth considering if you, for instance, have your family members or shared house using the internet simultaneously with several connected devices - laptops, mobiles, console, etc. If you download and play video games, or watch a lot of on-demand TV services or streaming sites like Netflix or Amazon Prime, you should look at fibre broadband packages.
At The Phone Co-op we provide a full range of
home broadband
packages; all the way up to Fibre to the Premises. Superfast Fibre Broadband is the most popular choice by our customers. Superfast is the ideal package if you have increasing broadband demands - ideal if you have multiple devices, a large household, for TV streaming, online gaming, etc. Our Superfast Fibre PLUS provides a better experience from your broadband. Download, work, stream and play without interruptions.
Other considerations may be whether or not you need a static IP - something generally only available from a
business broadband package
and necessary if you intend to work via a VPN.