New from the Phone Co-op – the world's most ethical smartphone
Published date: September 2019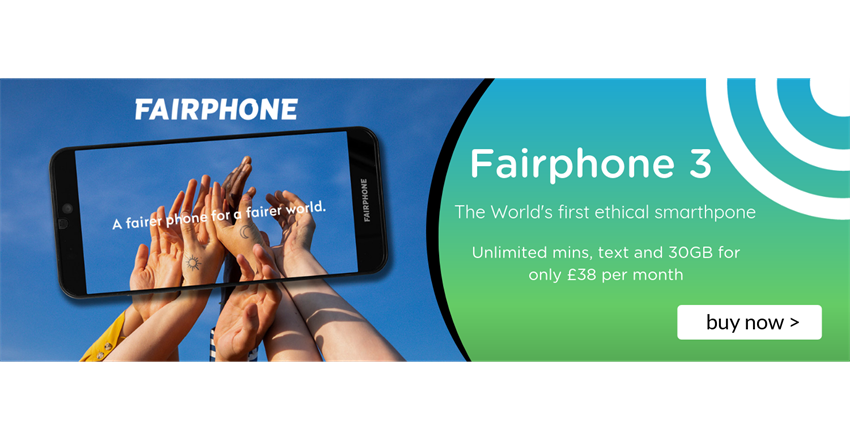 The Phone Co-op has worked with Fairphone, the Dutch social enterprise committed to the development of consumer electronics with a conscience, since it launched in the UK.
So we're delighted this autumn to offer the brand new Fairphone 3, widely touted as a game-changer in ethical smartphones.
Fairphone 3 gives users a great spec AND ethical, sustainable credentials that other manufacturers simply can't match.
And buying from The Phone Co-op magnifies that thoughtful choice.
The only UK telecoms co-operative, 100% owned and run by our members, and with a commitment to sustainability and fairer trade - we're the perfect match for the world's most ethical smartphone.
A great phone, a great offer
Fairphone 3 has a great spec. It runs on Android 9 and features a 5.7-inch full HD LCD display, 3,000 mAh battery, 12-megapixel main camera and 8-megapixel front camera.
We're offering a competitive deal on Fairphone 3 with unlimited minutes and texts plus 30gb of data for £38 per month, or as a phone-only option for £420.
Impeccable ethical credentials
But where the Fairphone 3 really stands out is Fairphone's commitment to reduce waste, treat workers fairly and help protect the planet.
As Fairphone's CEO Eva Gouwens says, "I don't need the best phone in the world; I want the best of the world in my phone."
The phone's modular construction means it's fully repairable, lasting much longer than many other smartphones – so reducing polluting e-waste. That's reflected in the fact that it comes with five years' support, including spare and replacement parts.
As a certified B-Corp organisation, Fairphone is committed to worker rights. The company partners with producers, labour rights experts and NGOs to improve working conditions in the heart of the electronics sector, including health and safety, worker representation, healthy working hours and worker welfare projects.
In addition, it's the first in the sector to use Fairtrade-certified gold, helping to make Fairphone the world's most ethical and sustainable mobile phone manufacturer.
Visit the Fairphone website for the full story.
Fairphone and The Phone Co-op
The Phone Co-op's relationship with Fairphone goes back to their beginning, when we actively supported them to establish a viable market for ethical consumer electronics.
We've long been the natural choice for conscious consumers - people who prioritise social and environmental values when they buy.
So if you want a great smartphone and an ethical purchase, Fairphone 3 from The Phone Co-op ticks both boxes.