Learning on the job: IT apprenticeship
Published date: October 2017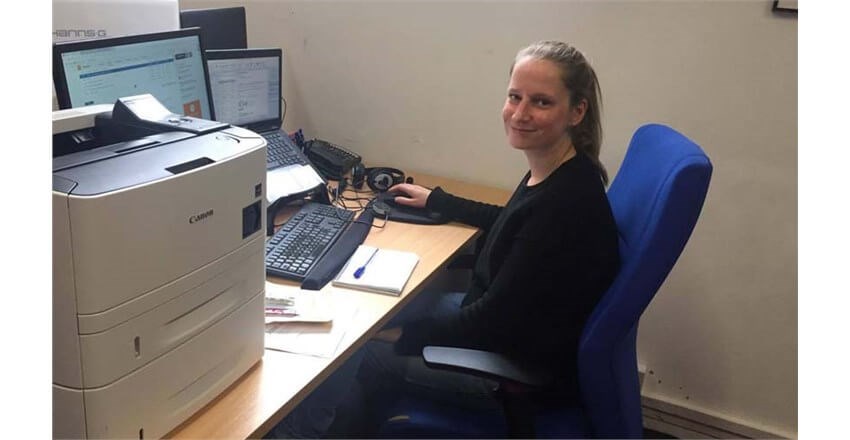 By Pat Moral
Anne Adams joined The Phone Co-op as IT apprentice in July 2017.
1. Tell us a bit about your life before joining The Phone Co-op.
My husband's job required us to move a lot and as we travelled I would pick up unskilled jobs. I knew we wouldn't be staying in one place for more than a year or two. I moved around England and then spent the last 4 years living in Germany, where I didn't work at all except for some volunteer work in a care home. My husband suffered a stroke which left him disabled and I became his carer for a number of years. When he became well enough we decided to move back to the UK and settle down. Finally I was able to work again and think about a career.
2. Why did you decide to apply for the IT apprenticeship?
I had a zero hour contract role that had no job security in regard to what hours I would get from week to week, and little opportunity for progression. I had always wanted a professional career with security and I was interested in computers, so I was really excited to see that The Phone Co-op was looking for an IT apprentice. It was a golden opportunity for me to have my own career as an IT professional in a people focused organisation. As an apprentice at The Phone Co-op, I get paid a living wage, which is wonderful as legally businesses don't have to pay apprentices the minimum wage until after their first year. This made the apprenticeship route possible.
3. In your opinion, what's the best part of learning a new career? And the worst?
The best part is just the opportunity to learn a new career in the first place. At 35 I'm pretty old for an apprenticeship, these are usually aimed at school leavers. It's not always possible we can change our lives and take up a new direction.
The worst part for me is that it's always hard to start afresh in life and it's a lot to learn!
4. Did you know about co-ops before you joined The Phone Co-op?
I had heard of the Co-operative supermarket as a champion of fair trade products and with ethical foundations. So it's all new and exciting learning.