Hosted audio conferencing: the low-tech solution to loneliness
Published date: August 2020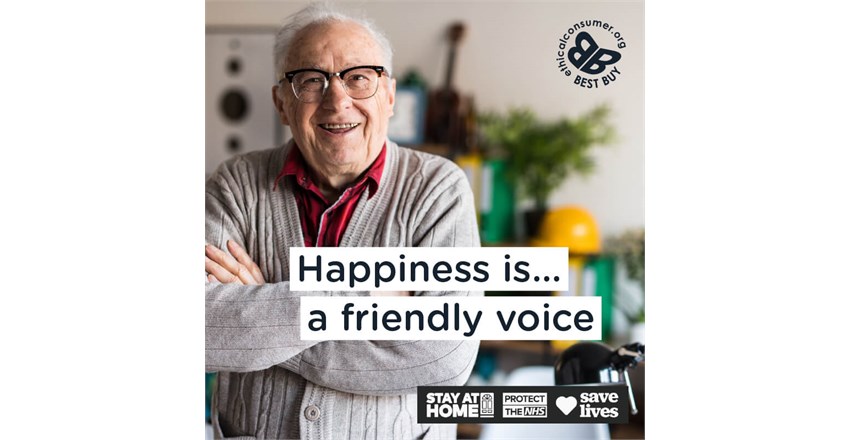 Social isolation has been brought into sharp focus by the Covid-19 pandemic. Suddenly community organisations, charities and social groups were forced to find new ways of keeping in touch. No more meetings in the office, no more dropping into the café or day centre, no more regular get-togethers in the church hall.
The profits generated by businesses like Zoom, Microsoft and other technology companies are testament to how quickly we've taken to video conferencing to keep in touch.
But many communities are still excluded from this online revolution: those who don't have access to the internet, don't have a laptop or, for whatever reason, aren't comfortable with video conferencing technology.
It's a big problem with wide-ranging consequences. Social isolation and loneliness is estimated to lead to a 30% higher risk of early death, according to research by Brigham Young University in 2015. That's comparable with the increased risk from obesity.
And for the elderly – who are less likely to have access to video conferencing technology – Covid-19 has made things even worse. The over 70's were seen as especially at-risk from the virus and advised to socially-isolate, whereas those with increased vulnerability due to ongoing medical conditions were told to shield for 12 weeks – a period that's only just come to an end.
An Irish study shows that, despite few elderly people reporting feeling lonely before the pandemic, calls to a loneliness support line increased during the 'cocooning' period advised in Ireland for elderly and vulnerable people, with many more reporting feelings of loneliness and negative emotions.
Online meet-ups are great at combating this social isolation. But for those who can't meet up online, hosted audio conferencing is a great alternative.
What is hosted audio conferencing?
The Phone Co-op is one of the few, if not the only, telecoms businesses to offer hosted audio conferencing.
Essentially, it gives smaller community groups and organisations the ability to hold regular meet-ups with members and customers over their landline phone, so everyone can join, even those without access to the internet.
The organisation books the meeting and a host from the Phone Co-op calls everyone at the allotted time, checks they are OK to join in and connects them to the call. A facilitator from the organisation monitors the flow of conversation, but the Phone Co-op host makes sure the call stays up and running and everyone stays connected.
Product technical expert Chris Salmon looks after hosted video conferencing for The Phone Co-op.
"We have a small number of hosts working with us at different times of the week," he said. "This means that the hosts get to know the groups and callers well, which is very important for elderly or nervous participants."
The host doesn't join or listen in to the call but monitors it remotely to ensure the quality of the line and connections.
Who uses hosted audio conferencing?
"Typically, we work with smaller community groups like local RAF associations, coffee morning groups and groups for the elderly," said Chris. "We also work with some of the large charities for the elderly and those with disabilities, like Age Concern and RNIB, who use us to host local group meet-ups.
Most of The Phone Co-op's hosted conferencing clients have been using the service for a while but the company has seen a rise in enquiries from organisations looking to replace face-to-face meetings, which can no longer happen because of lockdown or social distancing rules.
"We've had a university contacting us to help run a book group, and several organisations for the elderly looking to keep their meetings going until they can get together in person again," Chris added.
"We also work with a church which was using hosted audio conferencing for its services during lockdown."
What equipment do you need?
Callers can connect in a variety of ways, via any online device or an ordinary landline phone. You don't need to be have an account with The Phone Co-op to join in. You can be anywhere in the world and there's no limit to the number of participants who can join in.
To find out more and book a demo, get in touch on 0203 559 9000 or email yourcoopconference.admin@midcounties.coop