Boost your green energy credentials with ethical broadband and save £50
Published date: July 2020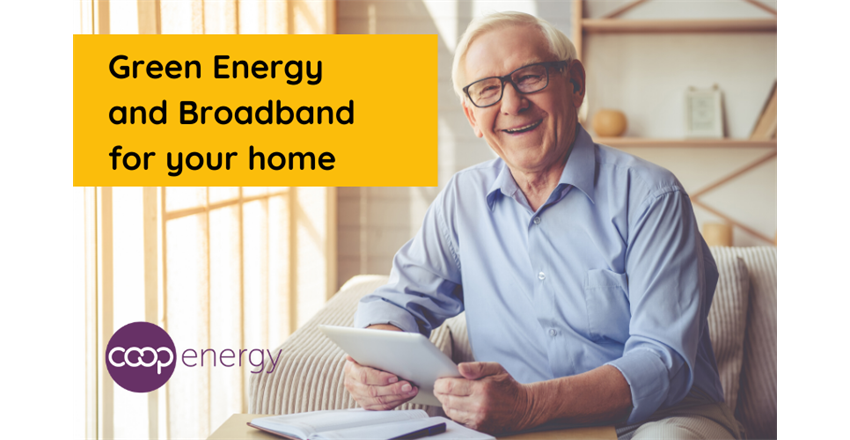 Exclusive to Co-op Midcounties members
If you're a Co-op Midcounties member and a customer with Co-op Energy, here's another way you can save money and boost your ethical credentials at the same time.
To celebrate the partnership between Co-op Energy and the Phone Co-op, all Midcounties members can now receive a £50 credit if you switch to The Phone Co-op's Superfast Broadband tariff.
Now's the time to go green
Green energy is mainstream these days. In the first quarter of 2020, renewable energy has broken UK record, generating almost half of the UK's electricity.
The coronavirus crisis has delivered another hammer-blow to coal-fired power, too. Demand for energy has slumped and, because renewable energy is cheaper to produce, it's now providing a huge percentage of our power. By June 10th, UK energy production had been coal-free for 60 days, the longest period since the industrial revolution.
The pandemic also means many more of us are working from home now, so a good broadband connection is more important than ever.
What better time to review your energy and broadband providers – and earn yourself £50 in the process?
Community power: the greenest of green energy
Co-op Energy's 'Community Power' tariff, at around £80 per month for a typical home, is one of the most ethical energy tariffs around. The electricity is 100% generated from community-run renewable energy projects around the UK, with carbon neutral gas.
Generators get a fair price for their electricity and the profits go towards local initiatives that help the local community.
This means you can support grass-roots initiatives as well as saving the planet.
Superfast broadband – the fairest of them all
The Phone Co-op's ethical credentials are well-established. As the UK's first and only telecoms co-operative, it has been committed to socially-responsible business practices, product sourcing and supplier relationships for two decades.
Its broadband offer scores highly in Ethical Consumer magazine's Ethical Broadband report, which recommends the Phone Co-op ahead of the four big broadband companies – Sky, Virgin, Talk Talk and BT.
The Phone Co-op's superfast fibre broadband offers an average download speed of 38mbps, and its Fair Price Promise means there will be no price hikes at the end of your contract.
Two-in-one from Co-op Midcounties
As a Co-op Midcounties member and Co-op Energy customer, you'll be eligible for a £50 credit if you choose superfast fibre broadband from The Phone Co-op.
If you're not a Co-op Energy customer, it's a great time to become one (or re-join) as you can still get the £50 broadband credit even if you join now.
Switching is easy.
Sign up here
to our energy and broadband deal and increase your environmental and ethical impact with just one click.